Eeckhout wins Ipswich National Trophy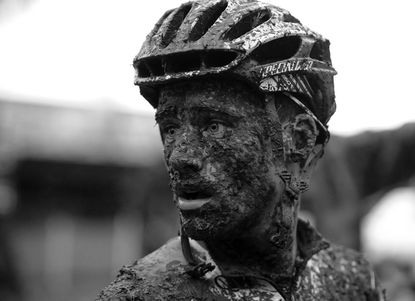 Fourth in the opening round, Oli Beckingsale went one better and took third in the second round of the National Trophy Series in Ipswich on Sunday, but there were lean pickings for the majority of the British riders on show.
A combination of atrocious weather and the previous day's European Championships had left the course at Chantry Park a quagmire in many places, and the foreign riders clearly dealt with the conditions better than their British rivals.
Belgian Kevin Eeckhout (Coolens CT) took the win, 13 seconds ahead of compatriot Tom Van Den Bosc, who was guesting for Hargroves Cycles, while Beckingsale took third, another 11 seconds off the pace.
With many of his British rivals well down the pack Beckingsale, 36 and from near Bristol, moved up from fourth to lead the National Trophy Series, with previous leader Paul Oldham (Hope Factory Racing) finishing sixth and dropping to second place overall.
Under-23 rider Steve James (Hargroves Cycles) put on a strong display to finish fourth overall and fastest in his age category, moving him up to third in the overall senior rankings, ahead of team-mate Jody Crawforth who was ninth at Chantry Park.
Meanwhile, in other categories Louise Robinson was fastest of the women, the Isla Bikes rider winning by 43 seconds from Adela Carter (Hope Factory Racing).
Having finished eighth in the senior European Championships the previous day, 47-year-old veteran Robinson shook off tired legs to make the most of her experience of the course and secure a deserved victory.
Elsewhere, Giles Drake (Team Elite) secured a third victory in four rounds in the North West League on Saturday, winning by around a minute from Endura Racing professional Jonny McEvoy at Beacon Country Park at Upholland in Lancashire.
In Wales, Team Wiggle's Lee Williams won round seven of the league on a new course at Pembrey Country Park, Llanelli, crossing the line 25 seconds ahead of last week's winner Andrew Baum (Cwmcarn Paragon).
After returning from a mid-Winter break, Williams sat in a group of four for the early stages of the race before going it alone to take the win.
And at Pittville Park in Cheltenham, John Whittington (CNP Orbea) claimed his third win of the Western League with a solo victory on Sunday. The 24-year-old was head and shoulders above the rest of the pack, who were led in by veteran Phil Blacker (Team Jewson).
Darren Barclay (Arctic-SRAM) won the seventh round of the Mosquito Bikes London League on Sunday, storming to victory at Stanmer Park in Brighton around a minute ahead of his nearest rival.
Kevin Eeckhout is somewhere in there, under the mud
Kevin Eeckhout after the win
Related links
Wyman wins Euro Cross Champs
Thank you for reading 20 articles this month* Join now for unlimited access
Enjoy your first month for just £1 / $1 / €1
*Read 5 free articles per month without a subscription
Join now for unlimited access
Try first month for just £1 / $1 / €1