Field and Wyman take national cyclo-cross titles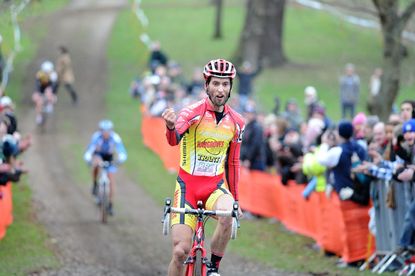 British cyclo-cross national championships 2012 photo gallery by Andy Jones>>
Ian Field won the 2012 National Cyclo-Cross Championship after a battling performance in the title race at Chantry Park in Ipswich on Sunday.
His victory was a thrilling finale to a weekend of events which saw some great racing in all categories.
Field crossed the line just three seconds ahead of Liam Killeen (Giant) who had been right up there with him until virtually the final corner when a touch of wheels in a technical off-camber section brought him down and gave Field a vital edge.
Jody Crawforth took third to ensure Hargroves Cycles had two riders on the senior podium, crossing the line 17 seconds after out-sprinting season-long rival Paul Oldham (Hope Factory Racing).
After the win, an emotional Field - who hails from Kent but lives in Belgium - said: "It was my first national cross title and it means a lot to me. I felt strong in the race and got everything right on the day.
"Racing in Europe has helped a lot. the last couple of seasons have worked wonders for my riding. I usually feel burned out by the time I get to the Nationals but I had a plan for today and I stuck to it. I went to America earlier in the season to get some racing in and get some UCI points and the plan paid off today."
In other categories, Helen Wyman (Kona UK) secured a seventh National Cyclo-Cross Championship victory with a convincing win over Nikki Harris (Telenet Fidea).
Despite reports that it was only 50-50 whether she would compete at all because of an illness she has had since Christmas, Wyman proved too strong for the classy field and secured an emotional victory.
Just like the women's event, in the juniors race the defending champion took the win with Hugo Robinson (XRT-Elmy Cycles) pipping Cycleshack's Alex Welburn.
Hargroves Cycles' Steve James continued his domination of the domestic scene with victory in the Under-23 title race, just seven seconds ahead of Kenta Gallagher (Scott).
And in the veterans events, National Trophy leader Jim Bryan (Zepnat) won by around 24 seconds from rival Darren Atkins (Team Jewson) who is also second in the Trophy series.
And Mick Bell (London Fire Brigade CC) won the over-50s race by just six seconds from Steve Davies (Team Jewson).
Results

Seniors
1 Ian Field (Hargroves Cycles) 1-02-08
2 Liam Killeen (Giant) at 3sec
3 Jody Crawforth (Hargroves Cycles) at 17sec
4 Paul Oldham (Hope Factory Racing) at 20sec
5 David Fletcher (Boardman Elite)
6 Tom Last (Sigma Sport RT)
Under-23s
1 Steve James (Hargroves Cycles)
2 Kenta Gallagher (Scott)
3 Grant Ferguson (Boardman Elite)
Women
1 Helen Wyman (Kona FSA)
2 Nikki Harris (Telenet Fidea CT)
3 Annie Last (Milka Brentjens MTB RT)
Veteran Women: Louise Robinson (Stourbridge CC).
Juniors
1 Hugo Robinson (XRT-Elmy Cycles)
2 Alex Welburn (Cycleshack-Forme Coaching)
3 Joe Moses (Paul Milnes-Bradford Olympic)
Veterans
Over-40s: Jim Bryan (Zepnat RT). Over-45s: Chris Young (Wheelbase). Over-50s: Mick Bell (London Fire Brigade CC). Over-55s: Barry Kipling (MTS Cyclesport). Over-60s: Dave McMullen (GWR Team). Over-65s: Vic Barnett (Welland Valley CC).
Youth
Under-16 Boys: Jack Ravenscroft (Solihull CC). Under-16 Girls: Abby-Mae Parkinson (RST Racing Team). Under-14 Boys: Dan Tullett (Hargroves Cycles). Under-14 Girls: Charlotte Broughton (Leicestershire RC).
Chantry Park in Ipswich
Roger Hammond
Liam Killeen leads Ian Field
Ian Field tops the men's podium flanked by Liam Killeen (right) and Jody Crawforth (left)
Helen Wyman adds another national 'cross title to her already impressive collection
Helen Wyman on the women's podium with Annie Last (left) and Nikki Harris (right)
Hugo Robinson won the junior men's race
Related links
British cyclo-cross national championships 2012 photo gallery by Andy Jones
British cyclo-cross national championships 2012 preview
Thank you for reading 20 articles this month* Join now for unlimited access
Enjoy your first month for just £1 / $1 / €1
*Read 5 free articles per month without a subscription
Join now for unlimited access
Try first month for just £1 / $1 / €1