Field wins opening National Trophy cyclo-cross round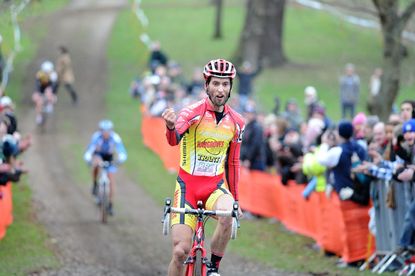 Ian Field (Hargroves Cycles) won the opening round of the National Trophy Cyclo-Cross Series with a commanding performance at Abergavenny Leisure Centre on Sunday.
Field, The 26-year-old National Champion from Ashford, crossed the line 27 seconds ahead of 2011 National Trophy Series winner Paul Oldham (Hope Factory Racing) at a cold but bright event in Wales.
He looked strong throughout the event, but afterwards said he was not going to be challenging for the overall series due to other racing commitments, much to the relief of his rivals.
"He made it look easy today but it certainly wasn't," said runner-up Oldham. "Ian isn't doing them all which is just as well really!"
"It's nice to get a win, but it's on to World Cups now and Super Prestige," confirmed Field. "I did a couple of events last year, and I'm here to back the Hargroves team and thank the sponsors."
Third spot went to Field's team-mate and former champion Jody Crawforth, 55 seconds off the pace.
Elsewhere, Great Britain mountain bike ace David Fletcher (Orange Monkey-Cannondale) opted to miss the first round of the National Trophy to take part in round six of the SRAM Notts and Derby League. His gamble paid off too - he took his third win in three races in the series.
With no event to ride in the London League this week, Darren Barclay (Arctic/SRAM) travelled to Colchester to compete in round six of the Elmy Cycles Eastern League. He finished two seconds ahead of Shaun Aldous (Iceni Velo) to take victory.
CNP Orbea rider John Whittington won the fourth round of the Wessex League at Supermarine Rugby Club in Wiltshire, crossing the line just two seconds clear of Paul Lloyd (Ride on Air).
North of the border, the Auchentoshan Centre at Clydebank hosted round two of the Scottish League. It proved to be a tough race with its fair share of falls, mechanical problems and punctures. But Rob Friel (XCracer.com) battled through to take his first win of season.
Giles Drake (Team Elite) was victorious in the Manchester Wheelers Cyclo-Cross - round four of the North Western League. The 28-year-old Wirral rider overcame the freezing cold and fog of the early morning at Boggart Hole Clough to claim his first win of the series.
And in the third round of the Central League at Longdean School in Hemel Hempstead, Michael Smith (Team Corley Cycles) won by more than a minute from London Phoenix's Matt Webber, while his Corley Cycles team-mate Liam Stone took third.
And Rob Partridge (Endura Racing) proved fastest in the Newsome Cross in West Yorkshire, crossing the line 30 seconds clear of runner-up Tom Randall (Rock Racing).
Thank you for reading 10 articles this month* Join now for unlimited access
Enjoy your first month for just £1 / $1 / €1
*Read 5 free articles per month without a subscription
Join now for unlimited access
Try first month for just £1 / $1 / €1
Snowdon Sports is a long-established independent sports news agency, which supplies editorial to a range of media outlets - such as Cycling Weekly - as well as sports governing bodies. Snowdon Sports often covers results at Cycling Time Trials events in the UK and has long been a source of information and imagery to Cycling Weekly.