Five big names still without a team for 2014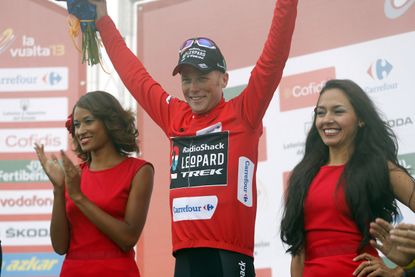 Cycling's transfer window is closing with several stars still without a contract for the 2014 season. Grand Tour winners, an Olympic Champion and others remain team-less and searching. Cycling Weekly takes a look at five cases...
1. Chris Horner
The American from Bend, Oregon, raced the last four years for RadioShack and won the Vuelta a España for the team in September. However, he is getting old at 42, and faces doping allegations.
General Manager Luca Guercilena explained that with the Vuelta win Horner essentially becomes too expensive. The team could spend the same amount of money on two or three younger riders and develop them.
Critics also question Horner's past and if his Vuelta performance, beating a rider 14 years younger, was clean. In his defence, Horner released his biological passport data and the UCI confirmed yesterday that all anti-doping tests from the Vuelta were clean.
Horner, winner of the Tour of the Basque Country and the Tour of California, keeps searching for a team. He said in the Vuelta that he wants to race for another two more years.
2. Samuel Sánchez
Sánchez began with team Euskaltel back in 2000 and had a contract to continue through 2015. With the team now stopping, though, the 35-year-old and 2008 Olympic Champion has nowhere to turn.
He hoped for a future with Fernando Alonso, along with the rest of team Euskaltel, but Alonso is postponing his foray into cycling at least until the 2015 season. If Alonso's project does go ahead, 'Samu' will likely form part of it as they both hail from Asturias in northern Spain.
Sánchez's most recent hope came from Northern Europe. Belgian second division team, Wanty said that it would like to have Sánchez. Its wish to receive wildcard invitations for the Ardennes Classics would be helped with Sánchez. Of course, both parties must agree on a price.
3. Luis León Sánchez
LL Sánchez won stages in the Tour de France, the Paris-Nice overall and twice the Clásica San Sebastián but is without a 2014 contract. Team Belkin, after an precautionary suspension, cut ties with the Spaniard last month because of his links to the Operación Puerto doping case.
"His name crops up in too many files," a Belkin spokesman said, according to De Telegraaf. The Dutch newspaper said its home team settled with Sánchez for the raining two years of his contract.
Other teams are not calling for two reasons: His asking too much even with the Belkin settlement in the bank and the Movement for a Credible Cycling (MPCC). The voluntary moment requires that teams wait two years before signing a rider that has been suspended. Sánchez says he is innocent and never served an official suspension, but teams in the MPCC are thinking twice.
Sánchez, 30 this November 24, is reportedly close to signing with second division Spanish team, Caja Rural-RGA.
4. Allan Davis
Davis could be at the end of his career. The Aussie joined his home team, Orica-GreenEdge in 2012 but failed to receive a contract renewal after two quiet years.
"I have nothing right now," Davis told Spain's Bici Ciclismo. "I'm continuing to look because I want to keep riding and I have more years in me as a professional cyclist."
He won the Tour Down Under in 2009 and place highly in other big races, including second in Milan-San Remo and third in the World Championship in Geelong. As recently as 2012, he was sixth in the Copenhagen World Championship. Times remain tough for the 33-year-old. Orica is investing more in stage racers and other teams searching for sprinters have plenty of options.
5. Juan José Cobo
Cobo beat Chris Froome (Sky) to win the 2011 Vuelta a España but has suffered since. The Spaniard, without a win over the last two years with Movistar, lacks a contract for 2014.
It is not the first time he has considered retirement. Though he won the Tour of the Basque Country in 2007, he suffered from depression and nearly quit. This time he may not have a choice but to say adios.
Movistar signed Cobo at the last minute in 2011 after his Geox team was unable to find a sponsor to continue. It has been unhappy with Cobo's results. He aimed for the Vuelta last year and the Giro this year but fell short in both tours. In the Giro, he crashed and hit his knee while reconnoitring the team time trial. The time trial that day, second to team Sky, was his best result in two years.
Related links
Daryl Impey signs to Orica-GreenEdge but several big names still without contracts
Thank you for reading 20 articles this month* Join now for unlimited access
Enjoy your first month for just £1 / $1 / €1
*Read 5 free articles per month without a subscription
Join now for unlimited access
Try first month for just £1 / $1 / €1