Floods threaten Tour's Pyrenean stages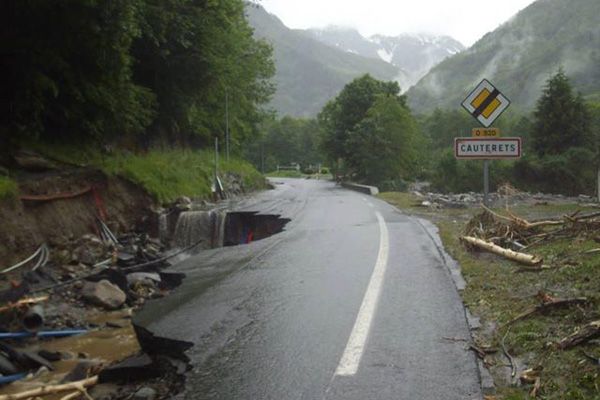 Extensive flash flooding in the Pyrenees could potentially threaten some of the Tour de France route when the race visits the region in just over two weeks time.
Heavy rain and melting snowfall over the last few days has caused devastating damage in South West France weeks before the arrival of the Tour. In some of the worst hit areas, roads have collapsed or been completely submerged underwater.
Stages eight and nine of the Tour are scheduled to pass through the Pyrenees on July 6 and 7. Reports say some of the areas along the stage nine route, including Bagneres de Luchon, and Saint Beat, have been badly damaged by the floodwater.
Kate Potter lives in St Mamet de Luchon, where stage nine of the Tour is due to visit, and runs AQR Holidays. She spoke of the damage after flooding hit on Tuesday morning. "By midday people were being evacuated 50m from our house. The area became an island and lower lying houses and campsites were taken over by water," she said.
"There has been a massive land slide off the Superbagneres which has destroyed part of the Superbagneres road towards Valley de Lys."
However ASO, who organise the Tour, have not yet indicated the route will need to be altered. They said: "At this time, ASO will let local authorities see what, if some measures are necessary to take. We will wait for their recommendations."
Some roads have had sections completely washed away. Picture from www.velopeloton.com
The town of Luz Saint Sauveur at the bottom of the Tourmalet has been badly effected. Picture from www.velopeloton.com




Lourdes low lying town centre is completely submerged. Picture from www.velopeloton.com
The entry to the Gorge de Luz. Picture from www.velopeloton.com




Surveying the damage in the town of Argeles Gazost. Picture from www.velopeloton.com




The start of the climb of the Tourmalet from Luz Saint Sauveur. Picture from www.velopeloton.com
Read Cycling Weekly magazine on the day of release wherever you are in the world with our iPad and iPhone edition - International digital edition, UK digital edition. And if you like us, rate us!