Flying Kiwis post fourth fastest team pursuit time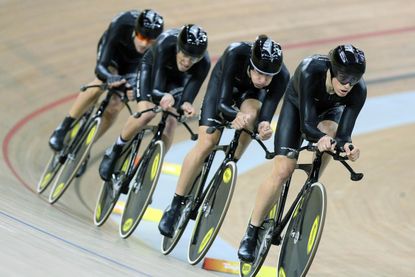 The men's team pursuit got a lot more interesting last night after the New Zealand team posted the fourth fastest time in history.
The quartet of Marc Ryan, Sam Bewley, Aaron Gate and Jesse Sergent took two seconds off the national record at the Oceania track championships in Invercargill last night, posting a time of 3-55.295 minutes.
It makes them the second fastest nation in the discipline as the three fastest times ever ridden were all recorded by British squads. The flying Kiwis beat Australia's fastest time by just over one tenth of a second.
Their women's team pursuit squad were also on form at the champs. They posted the second-fastest ever time at sea level with 3-19.759 minutes. New Zealand were just two tenths of a second off the USA's world record, set in Aguascalientes, Mexico, a town that sits 1,800m above sea level.
GreatBritain's women posted 3-19.757 at the Manchester World Cup in
February in the gold medal ride-off against New Zealand, setting the fastest time at sea level and second quickest time behind the Americans.
"We had initially looked at going 3-58 but saw the girls had gone a lot quicker so we re-thought our goals,'' Sam Bewley told the New Zealand Herald. "It gives us a lot of confidence going into the World Cup in Cali. We have been around the 3-58 mark for a few years so this is a big breakthrough.''
The result now means there are four strong teams in the men's team pursuit going in to Olympic year. The Australians have won the last two world titles while Russia posted their fastest ever time at the last track world cup in Astana.
The three nations will be pushing the British team all the way to London, looking to take their Olympic title, and perhaps world record, from them on British soil. The British team constantly repeat the mantra that they worry about what they're doing, not what others are, but these latest results will get some sort of reaction.
The British women are also in for a scrap in the discipline having won the world title three times out of a possible four.
The track world cup in Cali, Colombia, from December 1-3 will provide the next opportunity for nations to show their mettle.
Related links
GB Endurance women warm up for London 2012 in Colombia
British Cycling's London world cup tickets sell out fast
Thank you for reading 5 articles this month* Join now for unlimited access
Enjoy your first month for just £1 / $1 / €1
*Read 5 free articles per month without a subscription
Join now for unlimited access
Try first month for just £1 / $1 / €1