Grant Ferguson: Master of all trades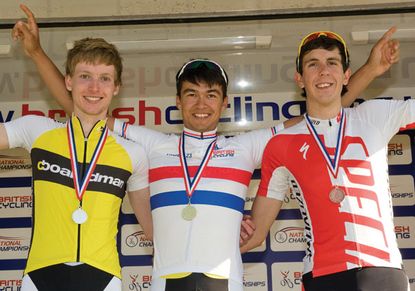 First-year under-23 rider Grant Ferguson has been enjoying a varied diet of racing lately. A recent week saw him race an elite criterium in Beverley, win silver at the National Mountain Bike XC Championship then finish his first elite stage race with the GB road squad.
Thus, on a Friday he raced the Beverley town-centre criterium, two days later he won a silver medal behind fellow Scot Kenta Gallagher in the under-23 XC title race. Next day he flew out with an under-23 team to take part in the Tour Alsace, ending his week climbing both the Grand Ballon and the Ballon d'Alsace in 35-degree heat.
The six-stage UCI Elite 2.2 category race was won by British revelation Jon Tiernan-Locke of Endura.
Mixing disciplines has worked wonders
It was a big week for the 18 year old. "Beverley was wet and I crashed out, then I went down to Reading for the mountain bike race. I hadn't ridden off road for a while, but the course at Reading really wasn't very technical. I just hung on to Kenta for as long as I could - he was flying. Then on the Monday morning I flew out to the race in France - it was a bit of an eye-opener because these guys can climb! There were some Continental Pro teams there like Endura, Europcar, Rabobank, Katusha and Astana plus the temperature was 35 degrees most days. On the final stage there were 4,000 metres of climbing," said Ferguson. "And they just keep riding hard all day. I just didn't have the legs."
GB manager Keith Lambert, whose team was decimated by sickness, said, "It was a really tough race against some big teams - and the weather didn't help, but the boys did well, they're young and still learning and developing." Ferguson - and fellow Braveheart backed rider Gallagher - have both been selected to ride the World XC Championships in Saalfelden, Austria between August 31-September 2. No peace for the wicked, clearly.
Ferguson (left) took mtb silver
This article was first published in the August 9 issue of Cycling Weekly.
Thank you for reading 5 articles this month* Join now for unlimited access
Enjoy your first month for just £1 / $1 / €1
*Read 5 free articles per month without a subscription
Join now for unlimited access
Try first month for just £1 / $1 / €1