Gronlund and Pettinger winning a week before national champs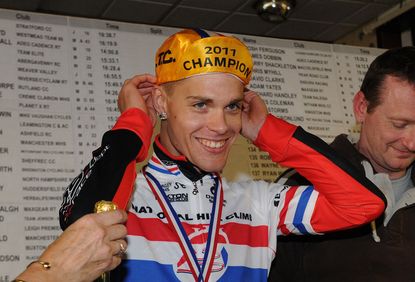 Reigning national hill-climb champion Gunnar Gronlund (RST-Trigon) completed his preparations for next weekend's 2012 title race when he took victory in the Chesterfield Coureurs hill-climb of Beeley Moor in Derbyshire on Sunday.
The 25-year-old, who is based just a few miles away from the course in Sheffield, romped to victory by 20 seconds over the 2.31-mile course, thereby defending his title in the 18th running of the event, which was renamed the Harry Cook Memorial in 2011.
Gronlund led RST-Trigon to a one-two in the event with team-mate Matt Sumpton taking second spot, while former national hill-climb champion Mark Lovatt (Planet X) taking third spot, 42 seconds off Gronlund's pace.
Over in Lancashire, national title hopeful Tejvan Pettinger (Sri Chinmoy CT) took victory in the Nelson Wheelers' climb of Annals Cross on Saturday.
Pettinger was head and shoulders above the rest of the field over the 1,620-yard climb near the village of Barley, clocking 3-32.0 to win by more than 28 seconds from runner-up Mark Tickle (Leigh Premier RC).
And he then rode the North Lancashire RC event on the 1,600-yard Nick O Pendle climb near Sabden, where he took another big win. This time he clocked 3-39.0 to win by 17 seconds from Team Bglobal's Matt Pilkington.
Third spot went to junior James Knox (Kent Valley RC) who was just 0.5sec behind Pilkington.
In the Bristol South CC hill-climb on Burrington Combe, it was the promoting club's rider Paul Jones who took victory, covering the UH26 course in Somerset in 7-48.9 to win by two and a half seconds from Robert Gough (Arctic SRAM).
Bristol South CC also took the team prize, while another rider from the promoting club, Lucy Walker, was fastest woman with 10-42.1.
And in East Sussex, veteran Pete Tadros (In-Gear Quickvit RT) won the East Sussex CA climb on Firle Bostal. He covered the climb in 3-49.0 to win by eight seconds from Lewes Wanderers' Dan Gardner.
Gardner's team-mate Peter Morris was third, another 14 seconds off the pace, and the pair were joined in the winning team by James Lowden.
Thank you for reading 20 articles this month* Join now for unlimited access
Enjoy your first month for just £1 / $1 / €1
*Read 5 free articles per month without a subscription
Join now for unlimited access
Try first month for just £1 / $1 / €1