Hannah Barnes wins Stafford Grand Prix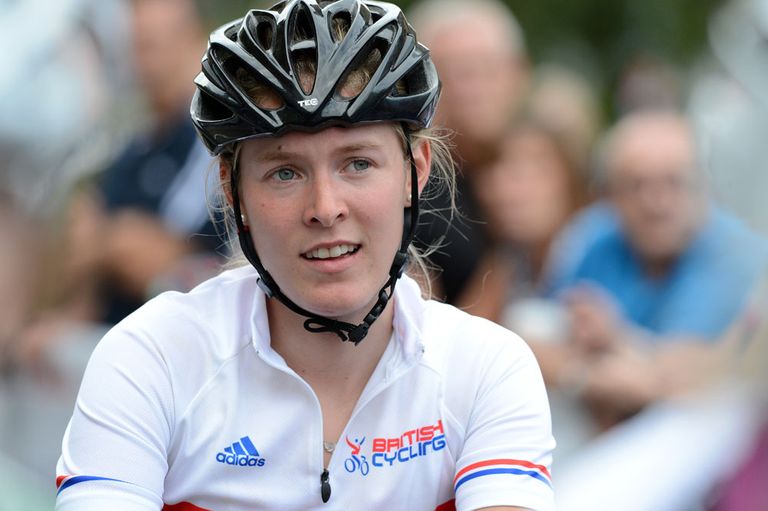 THE newly-crowned National Circuit Race Champion, Hannah Barnes (MG Maxifuel) added the Women's National Road Race Series to her palmares with a thrilling victory in the Stafford Grand Prix on Friday evening.
The final round of the series, the Stafford race saw the 20-year-old Northamptonshire-based rider start nine points behind her rival for the title, Anna Ewing (Breast Cancer Care RT).
But victory in both intermediate sprints as well as the sprint for the line gave Barnes just enough points to snatch the overall title.
The weekend of cycling action also included the Stafford Kermesse, and Team Raleigh pair Tom Moses and Graham Briggs secured a one-two.
The Yorkshire Road Race Champion, 21-year-old Moses crossed the line alone. Briggs, the former National Circuit Champ from Doncaster, was made to work for second spot, sprinting to the win ahead of Node 4 rival James Williamson.
Elsewhere, Madison Genesis 23-year-old Jack Pullar secured a second victory in the CDNW Road Race League, winning round 15 at Scorton on Sunday.
He won a three-up sprint finish to the 63-mile race, just ahead of Dillon Byrne (Champion System) and James Gullen (Hope Factory Racing),while the remains of the break came home a few seconds later.
Newcastle's Collin Humphrey (Achieve-Skinnergate Racing)secured victory in the Billy Warnock Memorial Trophy in Scotland, crossing the line almost two minutes clear of his nearest rival.
The 35-year-old broke away on the last of the eight ten-mile laps, but suffered a broken spoke which saw his lead slashed. But he recovered strongly to take the win in style, 1-46 ahead of runner-up Craig Adams (GJS Cruise Racing), with Peter Murdoch (Paisley Velo) third.
In Kent, Jake Martin (Pedal Heaven RT) won round 18 of the South East Road Race League's Series at Edenbridge. The elite rider took the win ahead of Twenty 3C-Orbea rival Rhys Howells, while Harold Evans (Aprire Bicycles) was third.
In South Yorkshire, Matthew Robinson (All Terrain RT) won the Stocksbridge CC Road Race at Penistone, the 33-year-old sprinting to victory at the end of the 50-mile race ahead of his four breakaway rivals, while the bunch came in about a minute back.
Herbalife 18-year-old talent Harry Tanfield took victory in the Hartlepool Carnival Criterium on Friday evening. He crossed the line first at the end of the 50-lap Oakesway Industrial Estate circuit ahead of Craig Anderson (Achieve-Skinnergate Racing).
And in Suffolk, St Ives CC rider Rory Havis won the Mid-Suffolk Road Race at Somersham on Sunday. The 32-year-old waited until the closing stages of the race, when he worked his way through the field and, with the help of team-mate Ben Harwin, managed to launch off the front for victory.