Hansen feat: Australian's Grand Tour Hat-Trick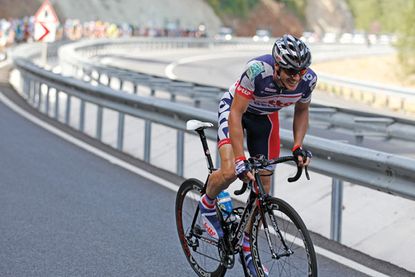 There's no trophy or coveted jersey for Adam Hansen's feat, but his 2012 season is perhaps deserving of one.
The Australian kicked off his WorldTour campaign at the Tour Down Under in January and closed it last month in the final at the Tour of Beijing.
In total the 31 year old clocked 105 race days - a record only equaled by Russian Mikhail Ignatiev (Katusha)- and was the only professional to finish all three Grand Tours.
"I've done three Grand Tours in a year before but not a calendar year so I thought, 'Okay, let's try that,'" Hansen told Cycling Weekly.
"It sounds crazy but someone has to do it and someone wants to do it!"
The Giro d'Italia and Tour were always on Hansen's race program but he added the Vuelta a Espana around July.
"I think normally if you do all three Grand Tours you have to be lucky to finish them without crashing out because that's always a high possibility. I thought because I've done the first two I have to try the third one," he said. "I've definitely learnt to save a lot more energy. This one rider told me man
y, many years ago that you learn to ride smart when you're not the strongest man in the bunch.
"Moments to move up in the peloton, moments to be up the front and at the back, researching the course before can save you a huge headache. It's all these little things. It all adds up in the end and you pick it up more when you need to save energy."
Hansen declared the Tour a success for his Lotto-Belisol team, which won three stages with sprinter Andre Greipel and helped deliver Jurgen Van Den Broeck to a fourth overall finish [10 minutes and 15 seconds behind winner Bradley Wiggins]. He worked for both during the Tour - a daunting task but one he was happy to do - and thinks it is possible for a team to adopt a two-prong attack at the race.
"It was a nice feeling to hear from the sponsors themselves that they were very happy with the situation and they were proud of sponsoring our team. I think everyone was happy with the Tour de France performance," he said.
"Having Greipel does take the pressure off Van Den Broeck. Three stage wins is very good for a team at the Tour de France. We do have a good train and it also helps bring him to the mountains in a good position, and we're not afraid to ride in the bunch, so we can support him well."
Lotto is set to keep that same approach even though teams specialising in one area or adopting a single objective, or at least leader, at Grand Tours is becoming more common. Sky, as an example, has alluded to an even more concentrated approach on the general classification ahead of the 2013 season, which has seen marquee sprinter Mark Cavendish depart.
However, Hansen noted even Sky did not ride exclusively for yellow jersey champion Wiggins in France this year but also Cavendish, who won three individual stages.
"We're happy with what we've done and we went with two different types of attack and in some ways Sky also. Okay, they won the yellow jersey but they also won three sprint days," he said.
"You can't say they only went for GC and they just had Cav. Cav still had trains on some days and they were always put in a good position. He didn't have everyone for him but you saw Bradley Wiggins and you saw the other riders in trains for Cav so he had the same thing.
"I think of course Cav was probably not so happy he didn't have more guys but the team definitely did not go in just for Wiggins. If you look at the second last stage he won, stage 18, the whole Sky team did a lead-out for him and on the last stage also."
Hansen is confident his busy year, which has left him lacking some spark, will not negatively impact on form in 2013 and that he will be able to recuperate fully over the off-season most of which he is set to spend at his base in the Czech Republic.
"I think I've been very clever with my recovery this year. I always take a lot of time off after a stage race, a Grand Tour, always. I'm never scared of not touching my bike for an extra two days," he said.
Hansen hopes to replicate much of his 2012 season next year starting with a solid performance at the Australian road championships in early January.
"I will have a big break after this season too and even though I want to be in top form at the national championships I still think I'll have heaps of time to do my base work. It will mean that I start my base training later because I did China but I think I'll have enough time," he said.
"I'd like to do everything exactly the same. I'll start with that theory.
"I'll do the national championships like before, Tour Down Under, Qatar and Oman and then Milan San - Remo. Maybe Catalunya and not Paris-Nice, I'll probably change that race but I'll still do the Giro, the Tour and then after the Tour make a choice of whether I do the Vuelta again. I'd definitely like to do the Giro and Tour again next year."


This article was first published in the November 1 issue of Cycling Weekly. You can also read our magazines on Zinio and download from the Apple store.
Thank you for reading 20 articles this month* Join now for unlimited access
Enjoy your first month for just £1 / $1 / €1
*Read 5 free articles per month without a subscription
Join now for unlimited access
Try first month for just £1 / $1 / €1