Happy 50th Birthday, Malcolm Elliott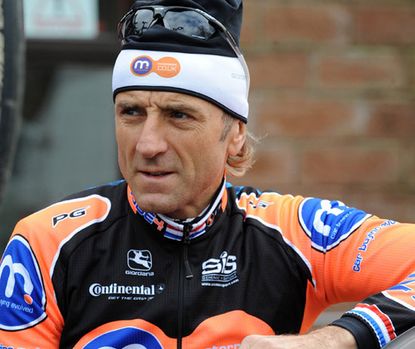 One of Britain's best-loved and most successful riders of all time, Malcolm Elliott, turns 50 today.
Most famed for his two stage victories in the Vuelta a Espana, Elliott has been national road race (1993), hill climb (1980) and pursuit champion (1985), masters world champion (2006) and also competed in the Olympics and the Tour de France.
Despite initially retiring from the professional scene over a decade ago, Elliott cannot shake off the racing bug, as proved by his decision to continue competing domestically with the Motorpoint in this, his ninth season since he returned to the peloton.
His spirit and enthusiasm remains as strong as ever, but for the last two months he's been affected by a mystery illness that affects him on the bike.
"It was at the Rutland Melton CiCLE Classic (in April) when this first began," he told Cycling Weekly at last Sunday's National Championships.
"It's not really an illness as such, its just something that happens down my windpipe - whenever I try and make an effort it immediately feels as rough as a cactus."
Elliott was forced to miss several rounds of the Tour Series, the scene of his last individual victory in 2009.
Thankfully, he's hopeful that things will improve in the next few weeks.
There's nothing sinister there luckily, it just seems to be an irritated larynx. It's got me doing inhalations three times a day which should help moisturise it as it's super dry."
When asked what his plans were for today, he said that he'll be spending it with friends and family. Hopefully his sore throat doesn't stop him from having a glass or two of wine - he deserves.
Happy birthday, Malcolm!
Malcolm Elliott : A career in pictures
Time trialling at the start of his professional career
The familiar sight of Elliott winning, this time in Northampton, 1986
Millar talks to the media, Kellogs Tour of Britain
Elliott tackling the Puy-de-Dome during the 1988 Tour de France


Elliott wins the East Midlands International CiCLE Classic, 2007
Blackpool Nocturne, 2009
His last win to date: Durham Tour Series round, 2010
British sprint kings: Cavendish and Elliott at last Sunday's National Championships
Malcolm Elliott : The teams
Ti Raleigh-Weinmann (1984), Raleigh (1985), ANC-Halfords (1986-87), Fagor (1988), Teka (1989-90), Seur (1991-92), Chevrolet-LA Sheriffs (1993-96), Comptel (1997).
Pinarello-Assos (2003-05), Plowman Craven (2006), Pinarello RT (2007-08), CandiTV-Marshalls Pasta (2009), Motorpoint-Marshalls Pasta (2010), Motorpoint Pro Cycling (2011).
Malcolm Elliott: The victories
2010
Halfords Tour Series, winner, round
2007
East Midlands International Cicle Classic
Shay Elliott Memorial
Newport Nocturne
2006
British Elite circuit series; overall
UCI World masters road championship
Chas Messenger Three Day; overall
2005
FDB Insurance Ras; stage
Trofeo International
2004
FDB Milk Ras; two stages
Girvan Three Day; overall and two stages
Beaumont Trophy
Premier Calendar; overall
British Elite Circuit series; overall
Tour of Mallorca; overall
Trofeo International
2003
Havant International GP
1997
Tour Lefleur
Jackson Criterium
1996
Killington Stage race; overall and three stages
Manhattan Beach Grand Prix
Tour of Mendoza
1995
Tour DuPont; stage
Killington Stage Race; two stages
1994
Redlands Stage Race; overall
Killington Stage Race; two stages
First Union Grand Prix
1993
British road race champion
Redlands Classic; overall and stage
First Union Grand Prix
1992
Tour of the Mining Valleys; stage
1991
Trofeo Masferrer
Torres Vedras; overall
1990
Tour of Catalonia; two stages
Tour of the Americas; three stages
Tour of Cantabria; two stages
Tour of the Basque Country; stage
1989
Vuelta a Espana; points competition and stage
Semana Catalana; two stages
Castilla y Leon; two stages
Tour of Galicia; stage
Kellogg's Tour of Britain; prologue
1988
Vuelta a Espana; stage
Tour of Aragon; stage
Kellogg's Tour of Britain; overall, prologue and stage
1987
Milk Race; overall and five stages
Nissan Classic; three stages
Tour of Lancashire; overall and stage
1986
Kellogg's Circuit series; two wins and overall
Milk Race; two stages
Sun Tour; two stages
1985
Sun Tour; overall
British professional pursuit champion
1984
Sealink International
British national criterium champion
Thank you for reading 10 articles this month* Join now for unlimited access
Enjoy your first month for just £1 / $1 / €1
*Read 5 free articles per month without a subscription
Join now for unlimited access
Try first month for just £1 / $1 / €1
Nick Bull is an NCTJ qualified journalist who has written for a range of titles, as well as being a freelance writer at Beat Media Group, which provides reports for the PA Media wire which is circulated to the likes of the BBC and Eurosport. His work at Cycling Weekly predominantly dealt with professional cycling, and he now holds a role as PR & Digital Manager at SweetSpot Group, which organises the Tour of Britain.