Hayles named as Etape Pennines ambassador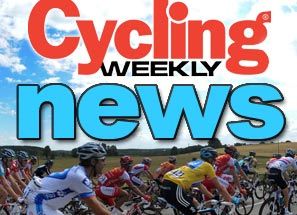 >>>We want to hear what's happening in your area. To submit your stories for CW's British news round-up, please email Nick Bull or Richard Abraham>>>
Three-time Olympic medalist and former national champion Rob Hayles has been announced as event ambassador for next year's Marie Curie Cancer Care Etape Pennines sportive.
The event, England's first closed-road sportive, will take place in County Durham on October 7, 2012. Hayles announced that he was honoured to be an ambassador for the event.
"Most importantly it's for an incredibly worthy charity and I hope everyone taking part will help raise funds to enable Marie Curie Nurses to provide free care to people with terminal cancer," he said.
"Secondly, as a professional cyclist I was able to ride on closed roads for a lot of races so to be able to do this in a more leisurely environment and share this experience with thousands of other cyclists in England's first closed road event should be something special."
Rob Hayles honoured at Revolution 34, November 2011
James Robinson, Managing Director of organisers IMG Challenger World, is happy to have Hayles on board.
"We're really pleased to announce Rob as an ambassador for Marie Curie Cancer Care Etape Pennines as he is one of the most popular riders in the UK and it is great to have him involved from the start," he announced.
Blue Peter presenter Helen Skelton will leave the UK today as she begins the first leg of her attempt to reach the South Pole by bike, kite and skis to raise money for Sport Relief.
Her journey will start 500 miles away from the Pole in the frozen desert of Antarctica, meaning days of up to 14 hours spent dragging a pack weighing over 80kg.
She hopes to set a new record for the longest bicycle journey on snow. Her custom-built bike has been fitted with enormous 8" tyres to provide enough traction to pull her supplies.
You can sponsor Helen through the Sport Relief website (external link).
The CTC has begun its search for a new head following the departure of current Chief Executive Kevin Mayne to the position of Director of Development at the European Cyclist's Federation.
"This has been a very difficult decision," he announced. "CTC is an organisation made up of amazing people. I am proud of all we have achieved together."
Mayne, who has held the post for 14 years, leaves with the praise of the organanisation and his colleagues. The move also brings tremendous opportunities to develop the relationship between the UK and cycling organisations in other European countries.
Chair of CTC Council David Cox said: "This is a great personal achievement for Kevin and recognition of the way CTC's work for cycling in the UK is respected by our international partners.
"I want to put on record my thanks for all he has done for CTC and cycling.
Jon Snow, President of CTC, echoed these remarks: "Kevin has rounded many hairpin bends and gone many extra miles for and with CTC. He has helped build us into what we are. We wish him well, but shall miss him very much."
Mayne will remain in the post until the spring; the CTC will commence recruitment shortly.
The British Heart Foundation will build upon the success of the London to Brighton by launching a nighttime version for 2012.
The 60-mile event will take place on the May 26, with riders leaving the streetlights of London behind as they head out into the starlit rolling countryside. As in the traditional version, they will finish on Madeira Drive in Brighton, although just when dawn breaks.
Ditchling by day, London to Brighton 2010
There will be transport available to and from the start and finish at an additional cost. Places are limited, and registration can be completed online here (external link), where additional information can also be found.
TLI Cycling say that members will benefit from lower racing costs and improved liability insurance in 2012 following their recent AGM.
While membership for adults (19-60 years old) has been reduced to £15, event levies have been scrapped. Public liability insurance has been increased to £10m for all members competing in road, cyclo-cross and circuit races held under TLI's regulations.
They also say the burden on organisers will also be lessened by new entry methods for Day Members.
TLI Cycling's chairman John Bethell believes it's a shame that TLI Cycling's work is often overlooked.
"Other larger organisations should recognise that cycle racing appeals to people of all ages, and TLI Cycling's format of age-related racing provides competition in a friendly environment, no matter the rider's ability," he said.
Primal Europe are looking to race more national events following the confirmation of their line-up for 2012.
National Vets Champion Martin Smith hopes to add to the team's '25' wins from 2011. A feeder club named RuTrainingToday Cycling Club has also been established from which the team principal, James Smith, plans to select the riders for the future.
"I really believe that this set up with a feeder club is the way forward for a sustainable club and team environment," he announced.
Team details can be found here (external link).
>>>We want to hear what's happening in your area. To submit your stories for CW's British news round-up, please email Nick Bull or Richard Abraham>>>
>>To catch up on previous weeks' round-ups see the British news round-up index page>>>
Related links
British News round-up: 2011 index page
Thank you for reading 20 articles this month* Join now for unlimited access
Enjoy your first month for just £1 / $1 / €1
*Read 5 free articles per month without a subscription
Join now for unlimited access
Try first month for just £1 / $1 / €1