Hope dominate as Oldham and Simpson win at Rapha Super Cross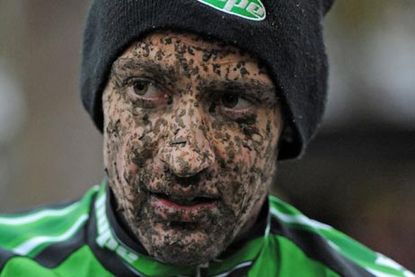 Hope Factory Racing made a great start in their defence of the Rapha Super Cross title, and lead by two points after the first two races were staged at Broughton Hall near Skipton and Phillips Park in Manchester at the weekend.
In Saturday's senior race at Skipton, Hope had three riders in the top ten, with National Trophy Series leader Paul Oldham taking the win, backed up by Dan Booth and Dave Collins, and Hope also clinched victory in the women's race through Annie Simpson.
And Oldham led the way in round two on Sunday, as did Simpson, leaving them in a commanding position heading into this Sunday's final at Alexandra Palace in London.
Mixed in with the serious racing, the event included several of its usual quirky challenges including the tequila shortcut, wall of foam, and spiral of doom, and for the large crowds there was a good supply of cow bells, frites, crepes and beer.
Tony Fawcett is always at the sharp end of the bunch whenever he enters the CXNE Rat Race and this weekend proved to be no different as the Scott UK rider soloed to a superb victory in round six held in Workington. The 35-year-old lapped the whole field on his way to a commanding victory.
Jiri Klekner took his first victory in round six the Yorkshire Points series, crossing the line almost a minute before second-placed Benny Pygott.
The 28-year-old Czech, riding for Wheelspin Cycles, was at the fore from the off and pushed his way clear at the race held at Huddersfield New College in West Yorkshire.
Ryan Bevis worked his magic in the Merlin's Knight Cross on Saturday after recovering from a fall in the mud.
The race, which makes up a round of the Welsh League, was held in Carmarthen Park and although the rain had soaked the ground, the rainclouds gave way to sunshine when the race began. Despite his fall on the slippery Flag Pole Bank, the 31-year-old NFTO rider went on to take a comfortable victory after chasing down the leaders.
Gareth Whittall took first place on home ground as he rode to victory in the seventh round of the Notts and Derby League in Nottingham on Saturday. The 32-year-old managed to edge out Paul Cox and made the line eight seconds before his rival.
Andy Taylor (Jedi Cycle Sport) clocked up a victory at Plumpton College in Lewes on Saturday. The race, which acted as a round for both the London and Sussex Leagues, saw Taylor finish ten seconds ahead of Jack Finch in second.
Giles Drake improved upon his previous outing in the North West League by coming first in the Weaver Valley Cross. Drake, the Herbalife-Leisure Lakes rider who came second to Dieter Droger last week, looked confident as he forced a 40 second gap over his rivals.
Thank you for reading 20 articles this month* Join now for unlimited access
Enjoy your first month for just £1 / $1 / €1
*Read 5 free articles per month without a subscription
Join now for unlimited access
Try first month for just £1 / $1 / €1