Hope hold on in Rapha Super Cross finale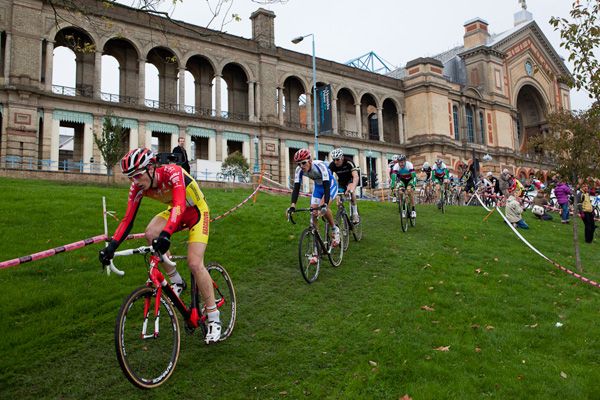 Hope Factory Racing successfully defended their Rapha Super Cross title in the final round at Aly Pally on Sunday. Paul Oldham maintained his position at the top of British cross racing with a third win in three races.
The final round wasn't the walkover everyone expected as Hargroves Cycles fought back to win the final round.
It wasn't all about the elites though, as the London venue, the third and final round of the Supercross series hosted a whole days worth of racing. Veteran Nick Craig was a comfortable winner in the open even, but the real attraction for the day was the fun race.
The final race of the day featured the Tequila shortcut - where riders could miss out the planks if they downed a shot of Tequila, or had one thrown in their face - and the wall of foam.
Both features proved hugely popular as the crowds that had stood and watched the previous races on the climb moved down the course to cheer at these sections. Some riders emerged from teh wall of foam covered head to toe in bubbles, and any tumbles were greated with a huge cheer.
Cheers too rang out for irresponsible drinking in the Tequila shortcut too, while anyone avoiding the shortcut was boo'd. The commissaires were kept busy keeping the youth riders out of the Tequila shortcut as some tried to sneak through.
Results

Rapha Super Cross, Alexandra Palace (Elites)

1. Paul Oldham (Hope Factory Racing)
2. Jody Crawforth (Hargroves Cycles)
3. Ben Sumner (ROTWILD-Forme coaching)
Rapha Super Cross, final team standings

1. Hope Factory Racing
2. Hargroves Cycles
3. ROTWILD-Forme coaching
4. Rapha-GB Development
5. Cycle Premier-Kovert
The elites string out on the brutal climb up to the Palace
The wall of foam was the most popular feature in the fun race, mainly because it rendered brakes useless for the following descent
Nick Craig, still winning bike races with comparitive ease
Racing went on all day at Ally Pally in north London
It wasn't all about the racing, there was Tequila to be drunk