Hutchinson crowned king of Blenheim Palace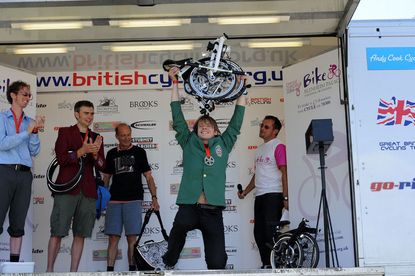 Michael Hutchinson (In Gear-Quickvit) won both the 20km individual time trial and Brompton folding bike world championships at the Bike Blenheim Palace cycling festival on Sunday.
Hutchinson blitzed the closed roads course around the grounds of the Oxfordshire stately home in 26-08. Defending champion Matt Bottrill (i-ride.co.uk) came close to repeating his 2010 victory by finishing just 11 seconds behind Hutchinson.
Bottrill's i-ride.co.uk team-mate Scott Walker placed third with 27-51.
Fastest woman was Paracycling time trial world champion Sarah Storey (Horizon Fitness RT), who also placed the fourth fastest time of the day with 28-29. Emma Grant was second fastest woman with 30-40, with Bronwen Ewing (Rye and District Wheelers) completing the women's podium in third and 31-45.
Hutchinson then went on to win the Brompton folding bike world championship, a fast-paced and not-entirely-serious race also held around the grounds. Rachael Elliott won the women's title.
Near-perfect weather conditions enticed thousands to take part in the 60- and 100-mile cyclo-sportive rides, Breast Cancer Care Pink Ribbon challenge ride and family rides around the stunning Cotswolds countryside.
Related links
British time trial round-up (August 20-21)
Matt Bottrill in the time trial
Michael Hutchinson in the time trial
Women's time trial winner Sarah Storey
Sarah Storey tops the women's time trial podium, flanked by second-placed Emma Grant (left) and Bronwen Ewing (right) in third
Michael Hutchinson wins the men's time trial, with Matt Bottrill (left) in second and Scott Walker in third
Le Mans-style start for the Brompton world championships
Brompton action
Brompton women's winner Rachael Elliott
Blazering ride: Hutchinson's Brompton race face
All of the Brompton winners
The Mask
A man with a small dog under his nose
Pink Ribbon ride
A handful of the thousands of cyclo-sportive riders
Thank you for reading 5 articles this month* Join now for unlimited access
Enjoy your first month for just £1 / $1 / €1
*Read 5 free articles per month without a subscription
Join now for unlimited access
Try first month for just £1 / $1 / €1