Inside the SiS factory: the production line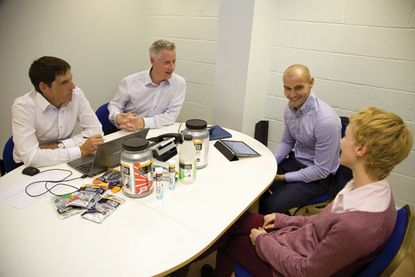 The path to the production line...
Founder and sports nutritionist Tim Lawson, product director Luke Heeney,Dr James Morton, and R & D director Niamh OKennedy review the latest research in a big to make the best energy product.
Once the ideas have been formulated, it's time to test them out in the lab. New product development manage Farhana Rahman works on ingredients to ensure they do what they need to and, crucially taste good.
Taste is a good place to start
Myriad substancs are preciisely blended to make each of SiS's products [below]
First trial of a new secret new gel?
Finished products hit the production line...
Not before the vital quality control checks...
Next up is labelling - you don't want to consume an energy drink when it's recovery time!
Fresh box of 'ammo' All wrapped up and ready to distribute
This article was first published in the January 3 issue of Cycling Weekly. You can also read our magazines on Zinio and download from the Apple store.
Thank you for reading 20 articles this month* Join now for unlimited access
Enjoy your first month for just £1 / $1 / €1
*Read 5 free articles per month without a subscription
Join now for unlimited access
Try first month for just £1 / $1 / €1