Italians reject idea of new cycling league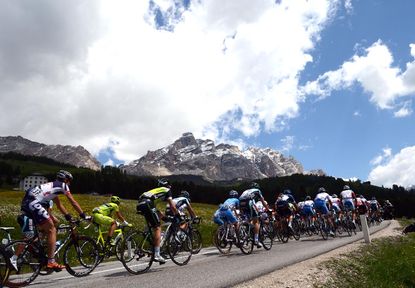 Italians are rallying against a new cycling league proposed earlier this month by Omega Pharma-QuickStep owner, Zdenek Bakala.
"Deregulation and concentration of power in the hands of a few and with obvious conflicts of interest will only lead to a crisis and damage our sport's fundamental values," read a joint press release by several of Italy's leading cycling groups.
"The reforms that they announced cannot follow the same recipe already shot down in recent history. Reforms need to be in accordance with cycling's governing body [the UCI] to prohibit a dominant position in the market and allow space to everyone who merits it."
Mark Cavendish joined Tom Boonen and the rest of the Omega Pharma team this month. Bakala took over ownership of the Belgian team three years ago. On November 9, he went public with his plans for a proposed league. He said that he had the backing from eight to nine teams and investors, plus €10-20m [£8-16m] of his own funds. The league, likened to football's Champions League, would field 18 teams in about 20 top races.
The league gathered speed after a US investigation proved Lance Armstrong doped throughout most of his career and the UCI stripped him of his seven Tour de France wins. In the wake of the revelations, Rabobank pulled its sponsorship and Sky met with hits staff, getting rid of coach Bobby Julich and sports director Stephen De Jongh. Sean Yates quit, but Sky said it was not due to the doping talks.
Bakala said, "Financially, the teams are unstable. It's not normal that in November some teams don't know where they stand for the next season. Teams [are fighting for] TV money. There must have stable income streams for the teams, allowing for long-term planning. The current complex WorldTour ranking system also needs reform. Therefore, we must make a Champions League."
The UCI said it has been talking with Bakala since last year. President Pat McQuaid explained, "In Zdenek Bakala and Bessel Kok we have cycling fans who have already done much for the sport but who want to invest further. That demonstrates the confidence they have in cycling and we are keen to partner with them and others. We look forward to making a formal announcement on this as soon as possible next year."
Those in cycling's heartland, though, are raising red flags. Besides Paolo Bettini and Renato Di Rocco of the Italian cycling federation (FCI), 200 persons met, including representatives from the associations of riders, sports directors and race organisers met last week. On Saturday, they issued a press release entitled, "Addressing the challenge as protagonists, transforming difficulty into opportunity."
"We need to work together... involve the younger generation in a clean and credible cycling, that selects on merit and responds to economic challenges for the financial sustainability of organisations and to attract sponsors."
Organiser of the Giro d'Italia and other top Italian races, RCS Sport said it would follow the UCI's lead.
"It's impossible to give a 'yes' or 'no' to [Bakala's] project because we don't know everything about it yet," Giro director Michele Acquarone told Cycling Weekly. "We know that we need to work together, and if that happens, the famous pie could become even bigger. A good project could be advantages for everyone. We are ready to talk, but remaining aligned with the UCI."
Related links
UCI takes steps to form 'champions league'
Thank you for reading 20 articles this month* Join now for unlimited access
Enjoy your first month for just £1 / $1 / €1
*Read 5 free articles per month without a subscription
Join now for unlimited access
Try first month for just £1 / $1 / €1