Jason Kenny and Simon Yates strike gold for GB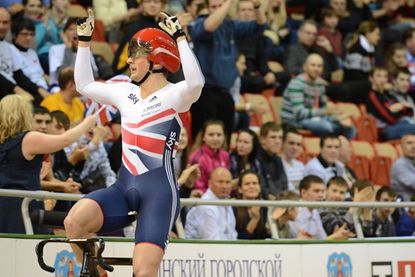 Simon Yates and Jason Kenny won Great Britain's second and third gold medals of the 2013 track world championships today with two stunning rides.
20-year-old Yates rode the points race with a maturity beyond his years to win a senior world title at his first attempt. The British Cycling academy rider started slowly, feeling his way in to the race, then timed his point accumulation to perfection.
He was one of five riders to gain a lap, and with it 20 points, mid way through the race. He then continued to bide his time, picking off points only when it wouldn't expend too much effort as others fought for theirs. Then he burst in to action.
Riding a relatively small gear had helped him hold something back for the final sprints. He scored in four of the last five, taking eight points in the last three sprints. "It fell perfectly to how I wanted to ride it. It was a bit touch and go in the last few laps, luckily I had the gas in the end," Yates said after.
With the points race on the cusp of making an Olympic comeback in Rio, the race suddenly has some impetus behind it, and Yates is the first to throw his hat in the GB ring. His ride may not have been the demolition job that Australian Cameron Meyer treated everyone to in 2010, but it was an extremely polished and calculated performance. "It's a long race, you've got to save your energy." Yates said of his slow start. "In those earlier sprints I probably wouldn't have been fast enough to win them anyway."
>>>For live updates from the track championships follow @CyclingWeekly on Twitter
Saving his legs was the perfect tactic, showcased further by the fact that the leader Eloy Teruel (Spain) was exhausted toward the end of the race and failed to score in the last three sprints. He finaly relinquished his gold medal position to Yates in the final sprint.
Yates's coach Chris Newton - the last Briton to win the worlds points race in 2002 - said; "I was stressed that he kept missing the right wheel. But he took care of himself. With 15km to go in a points race with people on their knees, you really have to dig yourself out, and he did."
Kenny follows on where Hoy left off
Jason Kenny took Great Britain's second gold medal of the night moments after Yates with a surprise win in the keirin. Kenny had been off the pace earlier in the day, getting knocked out in the first round before getting back in through the repechage. He then missed out on a place in the final only to be reinstated when Françios Pervis (France) was relegated for impeding Kenny.
After the disappointment of the team sprint on Wednesday, those three rides did little to suggest Kenny was about to win his second world title. "The first round was pretty non-committal. It was fairly pathetic really. I didn't look great and there was a big disappointment on Wednesday. It hit the team really hard." Kenny said.
"On a physical level I knew that he had it today," his coach Iain Dyer added. "He's got what it takes, he had a great team sprint in his own right, but I think mentally he was a little lackluster today, maybe a little hungover from the team sprint, which was a disappointment for the guys. We had a few words and got him up for the repechage."
"I think he felt good physically and he was warming to the task mentally and realized he's got a chance at that point - anyone can win when you get to the final - and he just did a great job.
"We made a gear change for the final and it worked out perfectly, it was a similar change to the one we made with Chris prior to the Olympic final, and ended up being against the same guy."
This was only Kenny's second world title, the first coming courtesy of a retrospective ban for Frenchman Gregory Bauge. With three Olympic titles, there is a sense that Kenny needs some world titles to truly establish himself at the top of world sprinting.
"I think it will be enormous [for him], you could see he enjoyed that win." Dyer said. "I'm chuffed for him, that will be the first time he gets to stand on that podium as an individual world champion. We all know that didn't happened last time around and the pretty shoddy episode to be given the jersey in that way, in the base of the track, so I'm sure he'll enjoy this."
Becky James continued her stunning world championships, making her way through to the semi-finals of the women's sprint. James qualified fastest with a personal best and progressed smoothly through her match sprints
Yates's academy team mate Jon Dibben was competing in the men's omnium, placing 11th in both the flying lap and points race, and ninth in the elimination. Reigning world champion Glenn O'Shea currently leads on seven points.
Katarzyna Pawlowska of Poland won the women's scratch race with a last ditch effort to escape the bunch. She had gone after Caroline Ryan who came within metres of holding on for bronze and Ireland's third medal of these championships. In the end she finished seventh, being swamped on the line. Dani King finished sixth.
Kenny wins 2013 keirin world title
Jason Kenny leads his round two race in the keirin
Simon Yates celebrates his points race win
Becky James leads Kaarle McCulloch in their sprint match
RESULTS
Men's keirin
1. Jason Kenny (GBr)
2. Maximillian Levy (Ger)
3. Matthijs Buchli (Ned)
4. Andrew Taylor (Aus)
5. Scott Sunderland (Aus)
6. Stefan Botticher (Ger)
Men's points race
1. Simon Yates (GBr) 35 pts
2. Eloy Teruel (Esp) 34 pts
3. Kirill Sveshnikov (Rus) 30 pts
4. Milan Kadlec (Cze) 30 pts
5. Stefan Kueng (Sui) 27 pts
6. Andreas Graf (Aut) 23 pts
Women's scratch race
1. Katarzyna Pawlowska (Pol)
2. Sofia Arreola (Mex)
3. Evgeniya Romanyuta (Rus)
4. Laurie Berthon (Fra)
5. Kirsten Wild (Ned
Other
6. Dani King (GBr)
7. Caroline Ryan (Ire)
Related links
2013 Track world championships index page
Day two: Martyn Irvine and GB women earn gold in Minsk
Day one: Silver and bronze for Great Britain
Thank you for reading 20 articles this month* Join now for unlimited access
Enjoy your first month for just £1 / $1 / €1
*Read 5 free articles per month without a subscription
Join now for unlimited access
Try first month for just £1 / $1 / €1