Katie Archibald's meteoric rise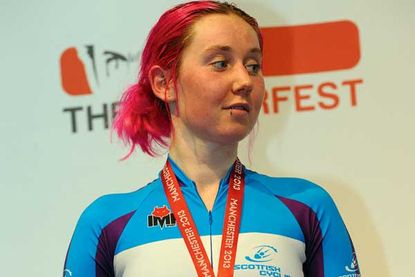 Shane Sutton's take on Katie Archibald's impressive rise from promising teenager to European team pursuit champion last month illustrates how quickly life has changed for the Scottish rider.
"We dropped an Olympic champion [Dani King] to give her a ride in the qualifying round [at the Euros] and then dropped another Olympic champion [Joanna Rowsell] to give her a ride in the final," says Sutton.
"She broke the world record and yet no one has heard of her."
If that was not enough, Archibald then impressed in the track World Cup meeting in Manchester, finishing second in the scratch race and only two seconds behind winner Roswell en route to finishing third in the individual pursuit.
"It's been a bit of a whirlwind really," says Archibald. "I've been doing so much I've not really had time to sit and reflect on it."
It's not hard to see why. The 19 year old, who hails from the town of Milngavie, six miles to the north of Glasgow, has barely been racing for two years, having previously spent most of her formative years as a swimmer.
"Cycle touring was a bit of a tradition in the family, but that's about it. I rode up Mont Ventoux for the first time when I was 14 with my dad, but the next time I went up our group were racing up it. I took it nice and gently and stopped for a coffee halfway up," she says, laughing.
Archibald was advised by a family friend to start cycling competitively in 2011, and it was in her beginnings as a grass track racer that she learnt how to ride the pursuit.
"It's ultimately designed for spectators and the races are handicapped as much as possible," she explains, "so I always used to get sent off early because I was normally racing against men.
"I would basically time trial to the line, eyeballs out in every race. Now I realise it was where I learnt my pursuit skills.
Meteoric rise
Her talent transferred onto the boards and last year she comfortably won the national junior pursuit title.
Twelve months later, she placed third in the discipline at the senior championships behind Olympians Laura Trott and King, having only just given up her job as an internet sales adviser.
By then she had already impressed former GB women's endurance coach Paul Manning enough to attend a trial day, which helped put her in the shop window for last month's European Championships in Apeldoorn, the Netherlands.
"I got the call after the Nationals," Archibald says. "I knew they were looking for a fifth rider to take and luckily I have a fairly boring life, so I took them up on the offer."
A world record and a 10-second margin over the second-fastest team followed in qualifying, before the former was shattered again in the final against Poland.
Archibald rode in both rounds, as did Trott and Elinor Barker, while King replaced Rowsell for the final.
"I'm the fifth strongest member of that team right now. I don't have the same experience behind me that the others have but it has given me something to work on," she says.
Archibald competed for a Scottish team at the recent World Cup, riding the individual pursuit and the scratch, two weeks after battling to 15th place in a hectic points race at the Euros.
"The difference in the scratch race [at Manchester] and the one [points] in the Europeans was massive," says Sutton. "At the Euros she was looking around everywhere, knocking everyone off. She looks a different bike rider."
Despite having a brief break between racing at present, life will not get any less manic for Archibald until the festive period.
Last Tuesday she moved to Manchester to start her first year as part of British Cycling's Olympic Academy Programme. Her excitement is palpable.
"It's funny you should ask about this. I just received an email with 'training plans' as the title when you rang. I'll look at them once we're finished," she says.
Yet just like the way Archibald dealt with the European Championships, you can be confident that nothing on that message will faze her.
All about style
Archibald is easily recognisable thanks to her pierced lip and her hair colour, which is currently pink.
"I just like changing the colour," she says, "I just bulk buy a number of different dyes online and save them up for when I need them."
At September's track National Championships, she went for a yellow look similar to the one Marco Pantani's team-mates opted for when he won the Tour de France in 1998.
"I think officially that was daffodil, but the manufacturers always come up with ridiculous names to tempt you into buying even more colours. I've had that sitting around for about six months," Archibald adds.
"In the past I've had green, blue, orange, pink and red hair, so I'm not sure which to go
for next!"
Katie Archibald facts
DOB: 12/03/1994
From: Milngavie, East Dunbartonshire
Lives: Burnage, Greater Manchester
Former team: Thomsons Cycles
Best result: First, team pursuit, European Championships 2013
The original version of this article appeared in the November 21 issue of Cycling Weekly magazine.
Thank you for reading 10 articles this month* Join now for unlimited access
Enjoy your first month for just £1 / $1 / €1
*Read 5 free articles per month without a subscription
Join now for unlimited access
Try first month for just £1 / $1 / €1
Nick Bull is an NCTJ qualified journalist who has written for a range of titles, as well as being a freelance writer at Beat Media Group, which provides reports for the PA Media wire which is circulated to the likes of the BBC and Eurosport. His work at Cycling Weekly predominantly dealt with professional cycling, and he now holds a role as PR & Digital Manager at SweetSpot Group, which organises the Tour of Britain.