Kinoko Custom Cycles open its doors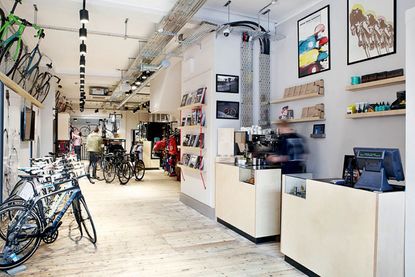 When a big two-storey bike shop specialising in custom builds opened its doors in a high-rent London location recently, it was yet another sign of the revival of the bespoke industry sector.
Formerly Tokyo Fixed Gear, based in a far smaller property in the West End, Kinoko Custom Cycles has set up its new shop in Soho's Golden Square (just around the corner from the Rapha cafe), rebranding and refocusing in line with the burgeoning interest in personally tailored road bikes.
Founder Max Lewis said the old premises had a "chop shop" vibe, reflecting the development of the custom movement from the fixed gear community.
He says: "A couple of years ago if you wanted a track wheelset you had to build it up, where [with] road bikes it was easier for it to be assembled in China.
"People enjoy the bespoke element, though, selecting the parts and upgrading certain areas and the end result is a unique bike, it is absolutely yours and there won't be anything like it."
As well as the fixies it used to specialise in, Kinoko offers a custom service on road machines with such brands including Donhou, Independent Fabrications, and Cherubim.
April's Bespoked Bristol, now in its third year, has also helped to illustrate the growing interest in custom machines. Organiser Phil Taylor said in the 1970s and 80s every town had a bike builder, and any "decent rider" would go to them for a bike.
"The benefit of having a bike tailored to exactly what you want is that it fits properly and it will be comfortable over a long distance.
If people are going to spend money in tougher economic times, if you buy something that is better quality it will turn out to be better value in the long run."
He said Reynolds and Columbus pushed the boundaries with stainless steel tubing about five years ago, meaning steel - and artisanal frame builders - could finally compete with carbon for weight.
This article was first published in the May 30 issue of Cycling Weekly. Read Cycling Weekly magazine on the day of release where ever you are in the world International digital edition, UK digital edition. And if you like us, rate us!
Thank you for reading 20 articles this month* Join now for unlimited access
Enjoy your first month for just £1 / $1 / €1
*Read 5 free articles per month without a subscription
Join now for unlimited access
Try first month for just £1 / $1 / €1