Academy riders ready for U23 Classics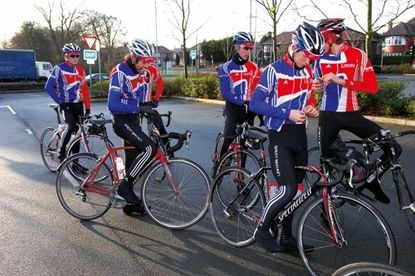 The GB Academy team is preparing for an important week of U23 Nations Cup races, buoyed by Luke Rowe's fourth place at Tuesday's GP Palio del Recioto in Veneto.
The Welshman made it into the thirteen-man leading group, as Slovenian Blaz Furdi took the win.
"The team rode really well. I'm really happy with them, how they're moving and getting into positions in the race. There's no radios, so you really rely on your homework," said Academy co-director Max Sciandri.
The squad enjoyed a two-week block of training, including several four or five hours days, before a series of Easter one-day Italian races. However, Tim Kennaugh missed out through injury, and Sciandri has pinpointed him as one of the riders struggling to adapt.
"Tim went through the first month with a few knee problems, he had to pull back and not train much. He hasn't really got the groundwork in. He's going to need time - some need a whole year to get into it, and he's one of them."
The squad now heads into an important week of U23 Classics, commencing with the Tour of Flanders on Saturday. Sciandri is hoping for a big result from in-form Rowe.
"Luke is the leader. He's a winner and is going well right now - he wants a win, he needs a win," Sciandri said. "Teams need leaders and sometimes you need to go for the result. That's not my philosophy all the time, but you need a result in certain races."
After Flanders, the riders face the Côte Picarde on Wednesday and ZLM Tour (17 April), which Rowe won last year.
"I'm bringing the whole team up because I want the first-year guys to see what's it's all about, so when they go there next year, hopefully they'll be better prepared," Sciandri added.
Subsequently, Erick Rowsell, Luke Rowe, Mark Christian and Andy Fenn are expected to race all three events, with Chris Whorrall and George Atkins scheduled to join them on the start line in Oudenaarde this Saturday.
2010 GB Academy squad
Second years: Luke Rowe, Erick Rowsell, Mark Christian, Andy Fenn
First years: Jon Mould, Tim Kennaugh, Chris Whorrall, Joe Perrett, George Atkins


Related linksGB Academy starts brightly in Italy
Thank you for reading 20 articles this month* Join now for unlimited access
Enjoy your first month for just £1 / $1 / €1
*Read 5 free articles per month without a subscription
Join now for unlimited access
Try first month for just £1 / $1 / €1