Alberto Contador, the clenbuterol, the beef excuse and the traces of plastic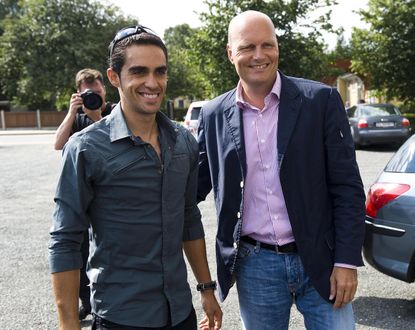 Another positive test, another protestation of innocence, another explanation. This time it was the beef. The drugs were in the beef.
Alberto Contador and his advisers have had a month to come up with that. They have had a month to hire some lawyers and investigators to track the meat back to the suppliers, do some tests and present to the world some evidence to support the claims.
Because if you are going to state, as the experts putting the case for Contador have done, that this "is a clear case of food contamination" then you need to provide something to add weight to that argument.
But perhaps Contador wasn't expecting to have to say anything at all. Perhaps he thought it was all going to go away.
The sample was taken on July 21, the second rest day of the Tour de France, the day before the big stage to the Col du Tourmalet. Small traces of clenbuterol were detected. Tests on the B sample backed up the first test. Contador says he was told on August 24 he had tested positive but was asked by the UCI not to say anything.
Another month passed and nothing had been made public. The UCI said that as soon as the B sample confirmed the A sample, Contador was provisionally suspended. Yet there was no announcement by the UCI until September 29. The Chinese rider Li Fuyu of the Radioshack team tested positive for the same drug after a sample was collected on March 24. By April 22 he had been provisionally suspended by the UCI. Why did it take a month longer to make a statement concerning Contador?
Information about Contador's positive test had been leaked to a German television station and reporters had been asking questions. The UCI denied Contador had tested positive but it appears that pressure from the media prompted the announcement.
Details have been patchy and contradictory. In the initial UCI statement, it was suggested that the level of clenbuterol in Contador's system was 50 picograms "which is 400 times less than what anti-doping laboratories accredited by WADA must be able to detect".
This was erroneous. It was 40 times below the threshold at which WADA-accredited labs must be able to detect clenbuterol, not 400 times. It just so happened that Contador's sample was tested at a laboratory in Cologne, Germany, with equipment sensitive enough to detect the drug at levels much lower than WADA requires as a minimum standard.
The woolly wording caused confusion too, with many people assuming that it meant the levels of the drug in Contador's system were way below that required to announce a positive test.
That was not the case. Clenbuterol is not permitted in any quantity. It is not something that occurs naturally in the body so there is no threshold, as there is with testosterone, for example. Whether it's a little or a lot, it's a positive test.
And under the World Anti-Doping Agency's rules of strict liability, an athlete is responsible for the substances in his or her body. If it got there because of contaminated food or other supplements there may be a case to plead for a reduced ban, as the swimmer Jessica Hardy did. She tested positive for clenbuterol and managed to demonstrate she had taken a legal supplement that had been tainted. Her two-year ban was cut in half.
Clenbuterol is not a new drug. It's been around for 30 years. Experts say the level of the drug found in Contador's system suggests it would have had no performance-enhancing effect. But as a drug that improves breathing, increases oxygen transportation and helps the body to burn fat more quickly, it is just the sort of thing athletes seeking an edge would find beneficial.
Contador says he asked a friend to bring some beef from Spain and that he ate the meat for dinner. Alexandre Vinokourov, who was also dope tested and was negative for clenbuterol, did not eat the beef, Contador claims.
The Spanish meat industry is not happy with Contador's claims, issuing a statement that said: "It is a clear case of a gratuitous attack on Spanish beef producers without any basis." Clenbuterol injections have been used to increase meat yield in cattle but the practice was banned a number of years ago by the EU.
And the meat excuse took on even greater importance when the French newspaper L'Equipe reported allegations that traces of a plastic residue the same as the type used to manufacture blood bags were detected in Contador's sample taken on July 20. This hints at the possibility of Contador having a banned blood transfusion using his own blood.
That may also explain the low levels of clenbuterol the following day. The theory, which Contador denies strongly, is that he used blood extracted earlier in the year after a training block during which he used clenbuterol. The screening equipment he had at his disposal was not sensitive enough to pick up the traces of the drug.
The test to detect traces of plastic has been around for a year or so but it has not yet been validated for use. The New York Times has reported that the levels were abnormally high. Even though the test has not been ratified, it may contribute to the case the anti-doping officials are seeking to build.
The problem for cycling is that those who follow the sport are becoming tired of the UCI's Keystone Cops administration of the sport. And those with a broader interest in sport will have seen the headlines: "Tour de France champion tests positive for drugs" and would have barely raised an eyebrow.
In fact, the over-riding reaction is one of mockery and scorn at Contador's explanation which sounds like it was plucked from the manual of excuses where it lies next to "the dog ate my homework".
Contador can plead his innocence and fear for his credibility. He appeals for the benefit of the doubt but what has he done to earn it? This isn't his first brush with doping controversy. It has not been proved one way or the other whether the initials AC in Dr Eufemiano Fuentes's documents refers to him or not. But Contador was riding for Liberty Seguros in 2006, the team run by Manolo Saiz, the man at the centre of the blood doping scandal with Fuentes. Contador said it was an unfortunate coincidence.
I prefer to think of an occasion when Contador was given a clear opportunity to speak up for clean cycling, to banish all the doubts once and for all.
We were sitting in the press room a few kilometres from Mont Ventoux on Saturday, July 25, 2009. Contador was wearing the yellow jersey. With one day to go, he had his second Tour de France title secured. It had been an impressive performance despite incredible tension inside his Astana team.
My colleague Edward Pickering asked an unequivocal question that demanded an unequivocal answer.
"Can you assure us that you've never taken any banned performance-enhancing products, nor used any banned methods, and can you take this opportunity to make a strong statement for clean cycling?"
Contador replied: "I'm available 365 days a year, which is something I accept with good grace for the sport I love. I will continue to have this attitude."
Why do so many fall so short when given the chance to strike a blow against cheating? Does the omerta really preclude a cyclist from saying: "I did this completely clean and I am very proud to have done so."
So what happens now? If the letter of the law were to be applied, Contador would be suspended for two years. He could appeal and if his "meat excuse" stood up at the Court of Arbitration for Sport his ban might be reduced.
But the damage is done. In the eyes of the world, the three-time Tour de France has tested positive for drugs and that is that.
It was the beef, it was the Jack Daniels and beers, it was the pressure from team management, the drugs were for my dog, my mother-in-law, it's a witch-hunt, it's a mistake. It's all very tiring.
Alberto Contador: Related links
Spanish authorities investigate source of Contador's mystery meat
McQuaid quiet on Contador case but says Spain can do more
Did Contador have a transfusion during the Tour?
Contador points finger at imported meat for clenbuterol positive
Contador tests positive for clenbuterol says governing body
Thank you for reading 20 articles this month* Join now for unlimited access
Enjoy your first month for just £1 / $1 / €1
*Read 5 free articles per month without a subscription
Join now for unlimited access
Try first month for just £1 / $1 / €1