Amateur cyclist almost interrupts the GP de Wallonie
Bunch sprint takes place despite seemingly unaware female riding on the finishing straight.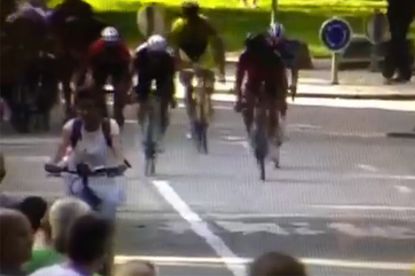 There aren't too many things more remarkable than BMC's Greg van Avermaet winning a bike race, which he did this afternoon at the GP de Wallonie in Namur, Belgium.
But what happened on the finishing straight caught our eye.
As riders entered the final corner, television pictures showed an amateur female cyclist riding a few hundred metres ahead of the pros, seemingly unaware of what was happening behind her.
French newspaper L'Equipe reports she managed to get out of the way in time, and did not impact on the result.
Thank you for reading 20 articles this month* Join now for unlimited access
Enjoy your first month for just £1 / $1 / €1
*Read 5 free articles per month without a subscription
Join now for unlimited access
Try first month for just £1 / $1 / €1