ARMSTRONG DOWN UNDER: JOB DONE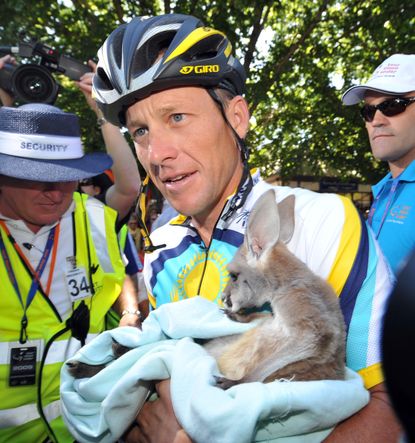 Perhaps it wasn't the dazzling display that some expected - or hoped for - but Lance Armstrong's comeback to professional road racing at the Tour Down Under last week was a solid start to his year back on the bike.
After three year's in 'retirement', South Australia's Tour Down Under offered a relaxed introduction back to stage racing for the man who has won the Tour de France seven times.
The stages were all under 150 kilometres, there were no individual time trials and no big mountains. He finished 29th overall, 49 seconds adrift of race winner Allan Davis. None too shabby.
The TDU allowed Armstrong to comfortably work on his condition, gauge his fitness against his peers in the peloton and have a couple of digs at the front if the legs and mood took him. Which they did on a couple of occasions, much to the delight of the crowds lining the circuit on the final day's racing on Sunday - just under 150,000 people turned out in Adelaide.
"It's a good indication I've done the right work," Armstrong said after the race.
"I still have to fine tune things, get lighter, get fitter and work on certain aspects of my conditioning, but I'm headed in the right direction.
"I'd say we're on track. If it was a normal year when you're focused on July I wouldn't be riding this well in January."
True to his pre-comeback announcement that he would be taking his LiveStrong cancer awareness initiative global, the Texan used his appearance at the TDU and the media furore it created to launch the campaign in Australia.
So, he's back. Armstrong's obviously in good shape for the time of year, he didn't embarrass himself by falling out the back of the bunch and he made sure that his cancer campaign got its share of the limelight. Job done.
Armstrong will be back in action at the Tour of California (February 14-22) where it's likely he will play more of a part on the overall standings of the race.
What did you think of Lance's comeback at the Tour Down Under? Have your say and read other people's comments on the CW forum>>
Relaxing with Astana directeur sportif and former Motorola team-mate Sean Yates
Chatting with fellow American George Hincapie
The TDU gave Astana an opportunity to ride as a team with its new leader
Always at the centre of attention
Armstrong used the race to test his condition
Armstrong had a go at the front on the final day's racing
TOUR DOWN UNDER 2009
STAGE REPORTS
Stage six: Davis wins 2009 Tour Down Under
Stage five: Davis makes it three
Stage four: Davis wins again in Tour Down Under
Stage three: Brown leads Aussie charge
Stage two: Davis takes gruelling stage
Stage one: Greipel wins first stage
Cancer Council Classic: McEwen gets Katusha's first win Down Under
PHOTO GALLERIES
Desktop wallpaper: Tour Down Under pics added
VIDEO HIGHLIGHTS
Stage four: Video highlights
Stage three: Video highlights
Stage two: Video highlights
Stage one: Video highlights
Cancer Council Classic: Video highlights
TOUR DOWN UNDER NEWS
Tour Down Under preview
Armstrong in Adelaide... and Astana kit
Armstrong to get elite security team for Tour Down Under
Armstrong vs Hincapie at Tour Down Under
Thank you for reading 5 articles this month* Join now for unlimited access
Enjoy your first month for just £1 / $1 / €1
*Read 5 free articles per month without a subscription
Join now for unlimited access
Try first month for just £1 / $1 / €1