Atkins and Mould scoop podium place at Copenhagen Six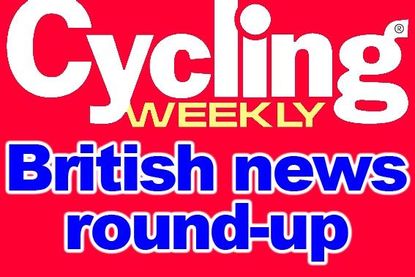 ATKINS AND MOULD SCOOP PODIUM PLACE AT COPENHAGEN SIX
Olympic Academy pairing George Atkins and Jon Mould took a well-earned second place in the UIV Cup at the Copenhagen Six-day.
Following a strong start, the duo found themselves leading the young riders' competition, but fell out of favour on the third day dropping down to sixth.
Some persistent riding took them back up the standings to where they eventually finished in second.
Home pairing Sebastian Lander and Christian Kreutzfeldt took the honours in the young riders' category with fellow Danes Alex Rasmussen and Michael Mørkøv taking overall scalps.
NEW WOMEN'S CYCLE LEAGUE FOR LONDON
The London Women's Cycle Racing (LWCR) is new league, which will comprise twelve events, including circuit and road races, time trials and criteriums, from March to August across London and the South-East.
The League aims to encourage women of all levels into racing, addressing low participation levels in events.
Riders will score league points both individually and for their clubs, culminating in a prize presentation evening, honouring improvement and commitment as well as achievement.
According to Maria David of Dulwich Paragon, the LWCR co-ordinator, the league "gives women riders of all levels an opportunity to develop their racing skills and participate in healthy local competition. Most importantly, it's about women having fun on their bikes."
Ten clubs have already pledged their support, while event organisers are enthusiastic.
"We welcome any initiative that brings more women into racing," says Surrey League chief executive Keith Butler.
Orbea-For Goodness Shakes! rider and European masters track champion Janet Birkmyre adds: "London Women's Cycle Racing League is a fantastic opportunity for women to try racing in a friendly and supportive atmosphere, and for others simply to get some more race miles in."
The first event is the Surrey League 3/4 cat race at Goodwood on Sunday March 28.
For more information and to sign up, visit www.londonwomenscycleracing.com.
FAIERS MAKES DEBUT IN SPAIN
British neo-pro Tom Faiers made his professional debut at the Challenge Majorca, riding the Trofeo Cala Millor.
The Footon-Servetto rider finished the race in 163rd, 2-30 in arrears of sprint-winner, Oscar Freire.
Fellow Briton and neo-pro sprinter Adam Blythe finished in 13th.
GWR TEAM GEARING UP FOR 2010
The GWR Team was unveiled last week, with the objective of targeting a wide range of domestic and continental races.
David Sinclair, Sam Redding and Llewellyn Kinch remain key members of the team, while new signings Doug Dewey and James Hawkins bolstering the U23 line-up.
The senior riders will focus on the regional calendar while the five U23 riders will race Premier Calendar races along with the East Midlands International CiCLE Classic, plus selected events in France and Belgium.
The team is also hoping to gain selection for the televised Tour Series criteriums.
GWR line-up:
Doug Dewey - U23
James Hawkins - U23
Peter Kench
Llewellyn Kinch - U23
Nic Tilling
Sam Redding - U23
Dave Sinclair - U23
Dan Smith


All smiles at GWR
TEAM SPROCKET ANNOUNCES CHARITY PARTNER
Team Sprocket, the development squad of Paris-Roubaix winner Magnus Backstedt, and Magnus Maximus Coffee have announced the first charity partner to benefit from its coffee sales this year.
Christopher's Smile, a UK-based charity set up to fund research into new treatments for childhood cancer, will be supported by the sales of the coffee.
"If we can help raise awareness and contribute towards funding this essential work with our team and coffee, then I think that is a pretty good cup of coffee people are drinking," Backstedt explained.
Backstedt's coffee is available via www.bigmaggys.com
To keep track of the team, see www.teamsprocketprocycling.com
Thank you for reading 20 articles this month* Join now for unlimited access
Enjoy your first month for just £1 / $1 / €1
*Read 5 free articles per month without a subscription
Join now for unlimited access
Try first month for just £1 / $1 / €1