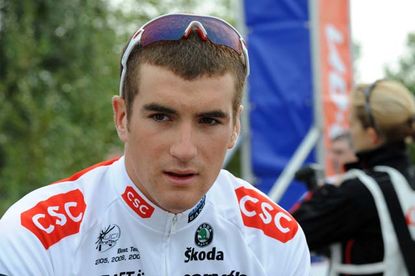 Jonny Bellis has come out of a coma and is slowly recovering from the serious injuries he suffered during an accident while riding his scooter in Italy on September 19.
According to British Cycling, doctors at the intensive care unit of the Florence Careggi hospital have gradually brought Bellis out of his coma in the last few days. He is still being medicated but is no longer sedated.
Contrary to reports, Bellis is still on a ventilator. Doctors tried to allow him to breath naturally on Monday afternoon but he will remain on the ventilator for two or three more days as he gradually recovers.
The 21 year-old Isle of Man rider, who turned professional with the Saxo Bank team this year, crashed heavily while riding his scooter near his Italian base in Quarrata. He was wearing a helmet but suffered serious head injuries.
Bellis is expected to stay in the Florence hospital for at least three more weeks before being transferred to the Isle of Man.
Bellis's father is still in Italy. British Cycling, Max Sciandri and Mark Cavendish have been assisting Bellis's family and visiting the hospital every day.
Related links
Bellis has surgery, in stable condition
Bellis in critical condition after scooter accident
Thank you for reading 20 articles this month* Join now for unlimited access
Enjoy your first month for just £1 / $1 / €1
*Read 5 free articles per month without a subscription
Join now for unlimited access
Try first month for just £1 / $1 / €1