Berling takes 2010 CiCLE Classic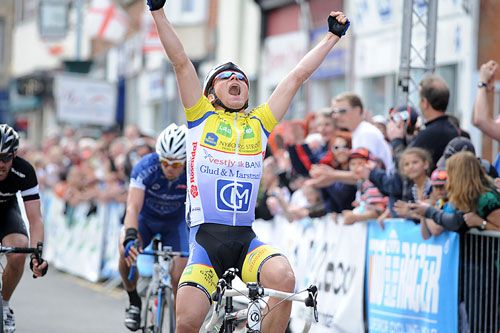 East Midlands CiCLE Classic photo gallery by Andy Jones>>
Dane Michael Berling (Glud & Marstrand) took the thrilling nine-up sprint at the finale of Sunday's CiCLE Classic around Leicestershire and Rutland. Rapha's Dan Craven took second from Pendragon's Yanto Barker who also placed third last year.
Starting in Oakham, the race took in two circuits of Rutland Water before heading for the lanes and the eventual finish in Melton Mowbray. The decisive move of the day went as the race rounded the second circuit of Rutland Water before heading in to the rough narrow lanes that characterise this race.
As the race entered sector 11 at 'Stygate' for the first time there were 15 riders away and included Steve Lampier (Pendragon), Yanto Barker (Pendragon), Jiri Nesveda (AC Sparta), Stephen Barrett (Planet X), Dan Davies (Kuota), Dan Booth (East Mids), Kit Gilham (Sigma), Dan Fleeman (Raleigh), Stephen Gallagher (Sigma), Jeroen Janssen (Kuota), James Moss (Endura), Ondrej Pavek (AC Sparta), Andrew Griffiths (London Irish), Michael Berling (Glud & Marstrand) and Kasper Jorgensen (Glud & Marstrand).
After twisting through a further twelve miles of lanes around Owston and Burrough-on-the-Hill the race retraced back along 'Stygate' (sector 8) and saw a chase group of four riders starting to bridge the gap to the fifteen. The four included Malcolm Elliott (Motorpoint), Dan Craven (Rapha), Will Bjergfelt (Big Maggies) and Simon Richardson (Sigma).
The chase group made it across to make a lead group of nineteen riders that had a lead of 1' 40'' as they crested the 'Somerberg' (sector 6) at 73 miles of racing. Last year's winner Ian Wilkinson (Endura) and Dave Clarke (Pendragon) headed the chase of the splintered race that followed behind.
As the race headed out towards Whissendine for the finale and on to the final sector 'Sawgate' at Burton Lazars the lead group had been whittled down to nine that included Lampier and Barker (Pendragon), Berling and Jorgensen (Glud & Marstrand), Gallagher, Gilham and Richardson (Sigma), Craven (Rapha) and Fleeman (Raleigh).
As they rounded the tight right bend in to the finish straight in Melton Mowbray it was Berling who had the advantage leaving Craven and Yanto to fight for the placings and Berling's team-mate Jorgensen punching the air with delight just behind.
Berling who took second last year behind Ian Wilkinson told Cycling Weekly, "It was my fourth time sprinting here in Melton and I knew I had to be first into that final corner. For two years in a row I have been beaten in the sprint because I was the last through the corner so I knew I just had to be the first."
RESULTS

East Midlands International CiCLE Classic 2010

1. Michael Berling (Glud & Marstrand)
2. Dan Craven (Rapha-Condor-Sharp)
3. Yanto Barker (Pendragon-Le Col-Colnago)
4. Kasper Jorgensen (Glud & Marstrand)
5. Kit Gilham (Sigma Sport-Specialized)
6. Stephen Gallagher (Sigma Sport-Specialized)
7. Daniel Fleeman (Raleigh)
8. Simon Richardson (Sigma Sport-Specialized)
9. Steve Lampier (Pendragon) at 30secs
10. Alexandre Blain (Endura) at 2-28
Stygate
Dan Craven and Malcolm Elliott head the chase
Ian Wilkinson and Dave Clarke
Rob Hayles heads the pack
Michael Berling celebrates
Podium (l-r): Dan Craven (second); Michael Berling (winner); Yanto Barker (third)
Related links
East Midlands CiCLE Classic photo gallery by Andy Jones
East Midlands CiCLE Classic 2010: The Big Preview