Bialoblocki to lead Wilier team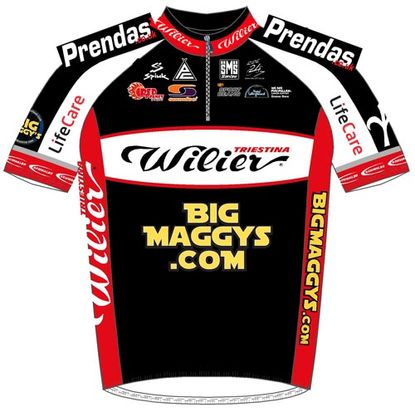 BIALOBLOCKI TO LEAD WILIER TEAM
Wilier has stepped up its involvement to become title sponsor for one of the South's most successful teams, following Sports Beans' withdrawal from the sport.
The team has retained virtually the same look, with the likes of Marcin Bialoblocki, Will Bjergfelt, Grant Bayton and ex-pro Ben Luckwell among those staying on.
The highlight of the team's season was Pole Bialoblocki's Girvan victory in April.
Will Bjergfelt also claimed the Perfs Pedal Race and the Totnes-Vires two day, while Mark Perry was the Southern region champion.
Luckwell added: "We finished third and eighth place overall in the Premier Calendar, which is good going for a relatively small team."
Despite fielding a skeleton squad at times due to injury, they also battled to sixth overall in the inaugural Tour Series.
"The Tour Series was obviously very successful this year and we want to be part of that next season. The format is good and it certainly makes the race more interesting," commented Luckwell.
Having boosted the squad's size from eight to ten, signing the likes of CandiTV rider Matt Rowe and VC Montpellier rider Jon Pain, the outfit is aiming high for 2010.
"We are aiming to finish in the top three British teams next year," Luckwell added.


Wilier-bigmaggys.com-Prendas Ciclismo 2010:
Grant Bayton
Marcin Bialoblocki
Will Bjergfelt
Ben Luckwell
Jon Pain
Mark Perry
Ian Reece
Matt Rowe
Chris Spence
Billy-Jo Whenman
SWEDISH TEAM WITH BRITISH RIDERS AIMS FOR LE TOUR
Paris-Roubaix-winner Magnus Backstedt's team returns for 2010 and will be renamed Sprocket Procycling, replacing the long-winded Magnus Maximus Coffee.com title.
The name has changed but the vision remains the same: to become the first Swedish team to ride the Tour de France.
"When I retired I wanted to create something good for riders who are outside of the fringes of the traditional cycling countries. Scandinavian riders are very much in demand now, you only have to look at Team Sky for confirmation of that," Backstedt explained.
Though the team is formed largely of Swedish riders, Russell Hampton and Joe Perrett will fly the flag for Great Britain.
"I want to take everything I learned in 13 years as a professional rider and pass it onto these young guys. Our mission is to ride the Tour de France by 2015, the riders we have now should all be the right age by then".
Russell Hampton left the Olympic Academy during the summer but accepted the offer to join the Swedish team for the back end of the season.
"Russell has a wealth of experience and is a special talent. His uniqueness maybe wasn't embraced on the GB Academy, but that is something we celebrate here and we see Russell very much as a leader figure within the team," Backstedt said of the Briton.
Other talents on the team include Australian Jack Anderson, the 2009 Oceana U23 time trial champion and Swedish time trial champion, Alex Wetterhall.
Full team roster:
Jack Anderson (Aus)
Russell Hampton (GBR)
Joe Perrett (GBR)
Niklas Gustavsson (SWE)
Freddy Johansson (SWE)
Richard Larsen (SWE)
Filip Rudenstam (SWE)
Alex Wetterhall (SWE)
WELSH CYCLING ICEBREAKER OMNIUM SERIES

Welsh Cycling, in conjunction with Newport Velo, will be holding a three-race omnium series over a three-month period beginning on January 23 and continuing on February 20 and March 20. The events will be for experienced Youth A, B and C riders and held at Newport Velodrome.
Special guests will include the multi world champion Geoff Cooke and double world and European champion Becky James. The Mayor of Newport will also be on hand on February 20 to present some prizes.
"This is going to be an exciting series of events aimed at giving our track stars of the future a real opportunity to gain some bunch race experience and build their early season fitness," said event organiser Michael Heaven.
There will be spot prizes at each event along with medals for each round and overall series trophies.
The events are pre-entry only at £7 per round or £20 for all 3 rounds.
For more event information please go to www.welshcycling.co.uk or contact Michael Heaven on 01633 670540
Alternatively, email: michael.heaven@welshcycling.co.uk
Young riders battle it out in the omnium at Newport velodrome
CYCLE PREMIER AIMING HIGH ON THE DOMESTIC SCENE
Newly-formed team Cycle Premier Metaltek has grand ambitions to make their mark on the Premier Calendar, Tour Series, Circuit Race Series and the CiCLE Classic with their ten-man squad.
Rod Freeman, formerly of Cycling Bargains, directs the team led by Commonwealth and World Championship-medallist Tony Gibb.
Raphael Deinhart, a German climbing specialist, will lend his support in the hillier races while James Millard will undoubtedly be of use in the Tour Series as a former sprint jersey winner in the Girvan.
The team will ride Italian Basso frames with Campagnolo componentry.
Team line-up:
Tony Gibb
Andy Magnier
Jason White
Ben Price
Raphael Deinhart
Simon Wilson
Richard Hepworth
James Millard
Ashley Finn
Robert Smail
RIDE THE TOUR DE CURE WITH STEPHEN ROCHE
Midleton Cycling & Tri club will hold the second annual edition of the Tour de Cure sportive on May 8 2010 to raise money for cancer and special needs charities.
Based around Midleton Co- Cork in Ireland, there are four routes of varying difficulty on offer with Stephen Roche himself to ride with the assembled sportivistes.
An event dinner with Roche will take place on May 7 as well as a criterium in Midleton on May 9.
Proceeds from the weekend go to Cancer Care at Mercy University hospital in Cork City and Special Needs Clients who attend the COPE Foundation.
More details can be found at www.stephenrochetourdecure.com
Thank you for reading 20 articles this month* Join now for unlimited access
Enjoy your first month for just £1 / $1 / €1
*Read 5 free articles per month without a subscription
Join now for unlimited access
Try first month for just £1 / $1 / €1