Bibby wins national 'cross title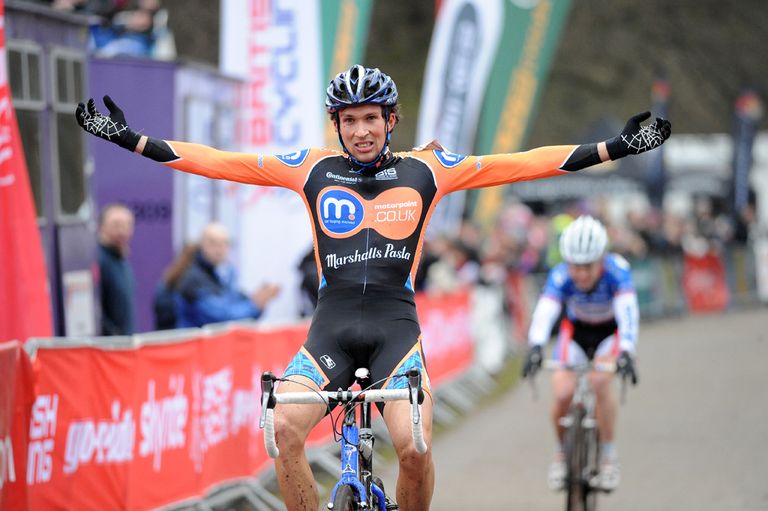 British Cyclo-Cross National Championships 2010 photo gallery, by Andy Jones>>

Claiming this season's first major victory for his Motorpoint-Marshalls Pasta team, Ian Bibby won the elite men's Cyclo-Cross National Championship in Sutton Park, Birmingham today.

Having taken-off from a five-rider group on the final lap of the hour long race, Bibby crossed the line ahead of defending champion Jody Crawforth (Arctic Premier RT) in second and Paul Oldham (Hope RT) in third.
"I'm very happy with that," admitted Bibby. "To be honest, I was a bit worried coming into this because I've not done many races this year."
Bibby's primary focus for 2010 is on road racing and for the last few weeks he has been training in Majorca.
"This is the perfect course if you've been doing loads of road training," he pointed out. "It couldn't be better."
Alongside the first three, the race's other main protagonists were Ian Field (Hargroves Cycles) and yesterday's veteran's race winner Nick Craig (Scott UK). All five had been together as the race passed the bell, but as Bibby applied the pressure, the cracks in the group finally started to open.
It was on a sharp kick up out of the woods that Bibby dealt the decisive blow. Crawforth made a valiant effort to chase back to him but readily conceded afterwards that "Bibby was the strongest today and deserved to win."
Earlier in the afternoon, Luke Gray (Hargroves Cycles) soloed to a well judged victory in the junior men's race.
Gray had been riding in the company of defending champion Tom Moses (Glendene) when the pair clashed in a technical section on the third lap.
With Gray the quicker of the two to remount, he opened a small gap which Moses could never quite close.
Behind this pair, Scottish Champion Kenta Gallagher (Scott UK) and Perry Bowater (CC Giro) engaged in a similarly fierce battle with Gallagher eventually claiming third place in a sprint to the line.
RESULTS

Cyclo-Cross National Championships 2010: Men

1. Ian Bibby (Motorpoint-Marshalls Pasta)
2. Jody Crawforth (Arctic Premier RT)
3. Paul Oldham (Hope RT)
Cyclo-Cross National Championships 2010: Junior men

1. Luke Gray (Hargroves Cycles)
2. Tom Moses (Glendene)
3. Kenta Gallagher (Scott UK)
Related links
Wyman takes women's 'cross title for fifth year running
Nick Craig wins vets national 'cross title
Cyclo-cross National Championships preview
Stu Bowers leads the pack
Bibby looking good
Crawforth: no answer to last lap attack
Oldham heading for bronze
Bibby hits the front...
...and wins
Senior podium: Crawforth, Bibby, Oldham
Luke Gray headed for junior title