'Bike shops aren't just a store… it's the feeling that you are part of a community'
We've all been there: we walk into our local bike shop, go to the counter to pay and a bottle of Muc-Off is staring back at us.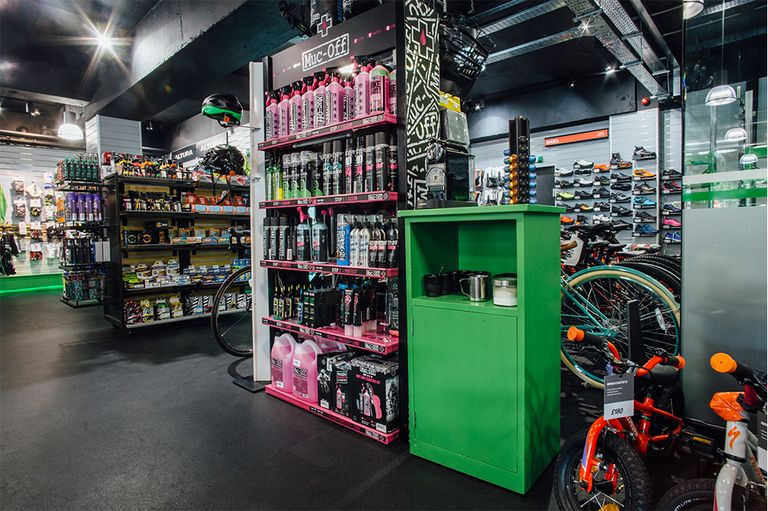 Promotional feature with Muc-Off
Whatever bike shop you go to, the chances are you will be greeted by a Muc-Off product. Such is their presence in a cyclist's daily life, they more than most know how important a local bike shop is.
And it is why they are pleased to support Britain's Best Bike Shop which allows you to vote for your favourite road and mountain biking store in the UK; and just by voting you will be entered into a prize draw to win goodies in excess of £600.
"It's important for us to support local bike shops because they are such a central hub to a cyclist's lifestyle," Jason Bradwell of Muc-Off said. "It's not just going in and picking up a few bottles of lube, it's the feeling that you are part of a community.
"Bike shops aren't just a store anymore, they're places for riders to meet, to grab a coffee, and to talk with other like-minded people about their passions."
More than likely, you will have used a Muc-Off product at least once before, whether its their chain, brake or drivetrain cleaner, a bike clean spray, or some grease and lube. You have probably also purchased their brushes or cloths to help you get the grime and grit out of the most awkward of places.
Watching the experts at work in your local bike shop fixing that irritating problem or giving your bike its annual service allows you to spend more time in the company of fellow cyclists and to learn about the best maintenance practices.
"A good bike shop is one where you can see the mechanics, talk to them and learn from them," Bradwell added.
"The days where workshops were tucked away at the back so you can't see what's going on with your bike are over. More and more bike shops are really keen to be front-facing and engaging with the customer as they are going through the process of cleaning and maintain a bike.
"A local bike shop is somewhere you can go and immerse yourself in the cycling community; they're integral."
Muc-Off sell products across the country and online. Online shopping, Bradwell says, has a definite place in the market, but Muc-Off are keen to ensure that as many of us as possible support our LBS.
"What are we doing to promote local shops? Getting involved with exciting campaigns like Britain's Best Bike Shop."
"For customer service, one-on-one interaction, for talking to a mechanic who has 20+ years of experience, you can't find that online. And that experience is valuable and really important you take advantage of it."