BOONEN GETS FIRST WIN SINCE COCAINE POSITIVE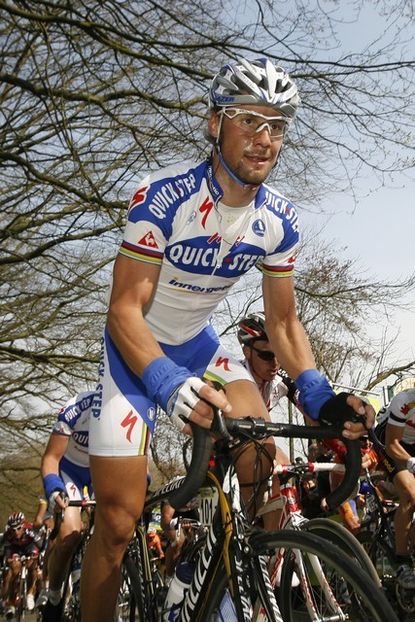 (Image credit: LUC CLAESSEN)
Tom Boonen has won his first race since it was announced he'd tested positive for cocaine in an out-of-competition anti-doping control.
The 27-year-old Belgian won stage four of the Ster Elektrotoer in Holland on Friday afternoon after a perfect lead out from his Quick Step team mate Wouter Weylandt.
Weylandt finished second in the sprint and Nikolaj Troessov (Tinkoff) was third.
Mark Cavendish (High Road) was fifth a couple of bike lengths behind Boonen.
"My objective was to put Weylandt in the best condition to make his sprint. I started to pull at 400 mt from the finish line as fast as possible to launch the sprint and when I saw that Wouter wasn?t able to pass me I went straight ahead up to the finish," Boonen said.
"In the last few days I've learnt a lot of new things about myself and about the cycling world and I have understood that there are many people who supportive. The decision that I took together with my team to return immediately to the races has been the right choice. I?m really satisfied.?
The victory will add to the Quick Step team's bid to pressure the Tour de France into allowing Boonen to take part in July's race.
The former world champion and Paris-Roubaix winner tested positive for cocaine in late May when the Flemish authorities conducted an out-of-competition test several days before the Tour of Belgium. The result of the test was revealed at the start of last week.
Cocaine is not a banned substance if detected out of competition and so Boonen does not faces any sanctions. However Christian Prudhomme, race director of the Tour de France, has said Boonen is not welcome at this year's race as he attempts to avoid any scandal plaguing the event after two troubled years.
Patrick Lefevere, the manager of the Quick Step, and the sponsoring company, a manufacturer of laminate flooring, has applied pressure on the Tour de France to allow Boonen to race because he is not banned from competing.
The 170-kilometre stage was the penultimate day's racing at the Ster Elektrotoer.
Thank you for reading 20 articles this month* Join now for unlimited access
Enjoy your first month for just £1 / $1 / €1
*Read 5 free articles per month without a subscription
Join now for unlimited access
Try first month for just £1 / $1 / €1