Boris bikes set to break record
July is on course to be a record breaker for Boris Bikes. Laura Laker finds out more.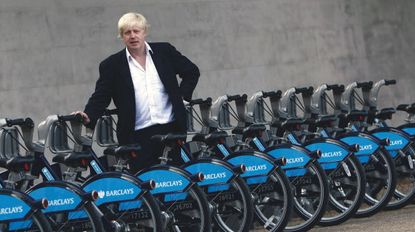 Boris Bikes are set to break their own record, set during the Olympics in July 2012, for the most hires in a month with more than 1.17 million hires recorded this July.
Since the scheme's launch on 30th July 2010 more than 32 million journeys have been made on the bikes, and to celebrate the fourth anniversary the bikes, which now cover 100km2 of London, will be free to use on 16th and 17th August.
Though most of the iconic bikes, which have become an integral part of London's street scene, will spend all of their lives in the capital, others have seen rather more adventure.
The Mayor of London, Boris Johnson, said: "In my experience there is no greater way to enjoy London than on two wheels and to celebrate our fantastic cycle hire scheme's fourth birthday, we are offering everyone the chance to cycle around our beautiful city for free. Whether you are an avid enthusiast or a cycling novice, you'll be able to hop on a bike and take in some of our capital's most iconic sights."
Time Out London has produced its most memorable moments of the Barclays bikes scheme, including one bike's epic journey in 24 hours to the summit of Mount Ventoux, the bike that mysteriously ended up being photographed in Gambia, supposedly donated by Transport for London, and the bike that had a two year holiday in Wolverhampton. Not to mention that stunt video featuring Boris Bike bunny hops, and death defying leaps on the bikes across the rooftops and bridges of London.
https://www.youtube.com/watch?v=Le9EcHyzsxM
Celebrities from Arnold Schwarzenegger to Pixie Lott to members of the boy band One Direction have been spotted using them. Kate Middleton and Prince William haven't been seen riding the tandem Boris Bike the Mayor of London gave them as a wedding present but according to the Daily Mail they have used the bike hire scheme for "private journeys around London".
Taking the bikes, which weigh 23kg and have only three gears, to extreme places has become somewhat of a red rag to adventurers - from several Dunwich Dynamo participants - to a recent successful 250 mile London-Paris ride.
There are now 10,000 of the bikes in London at more than 700 docking stations. To commemorate the Tour de France this year 101 of the bikes were painted yellow. Usage of the bikes grew 30% between March and June compared to the same period last year, with some days better than others - on 10 August 2012 47,105 hires were made in one day.
The bike hire scheme is now looking for a new sponsor to fill a £5.5 million a year shortfall in profits after Barclays announced it will pull out of the scheme next year. There's also plans for e-Boris Bikes in a hilly part of North London. Those wanting a free ride during 16th and 17th August will need to use a bank card, rather than their member key.
Thank you for reading 10 articles this month* Join now for unlimited access
Enjoy your first month for just £1 / $1 / €1
*Read 5 free articles per month without a subscription
Join now for unlimited access
Try first month for just £1 / $1 / €1