Bottrill wins Rudy Project in Northants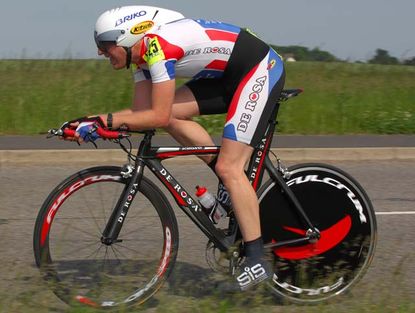 Local knowledge paid dividends for Matt Bottrill, the I-Ride Racing Team rider who won the latest round of the Rudy Project Time Trial Series in Northamptonshire on Saturday.
Bottrill made it two wins in two consecutive rides in the series when he covered the 28-mile seniors course in 1-04-16, winning convincingly by almost three minutes against a disappointing field of just nine for the seniors event.
"I know the area well and that really helped," said Bottrill afterwards. "But saying that, I was still pleased with my performance.
"That's my sort of course, it's interesting territory on nice quiet country roads and it really helps if you know where to go for it."
Dooleys Cycles RT rider Arthur Doyle took second, 2-48 behind, while Dean Robson (Somerset Road Club) made his journey worthwhile with third spot, another three seconds off the pace.
VC St Raphael's Sarah Storey won the women's event by exactly two and a half minutes from Wyre Forest CRC rival Michelle King, while in the veterans event Dave Dent (Wightlink Offshore) beat former National Champion and Candi TV rider Richard Prebble into second by just three seconds.
The series continues on October 11 with round seven in South Wales, but Bottrill will not be riding.
"It's been a long season, and there's a lot of travelling involved if you want to go for this series," he added.
Results
RTTC-Rudy Project Time Trial Series: Round six, Naseby, Northamptonshire, 28 miles
1. Matt Bottrill (I-Ride RT) 1-04-16
2. Arthur Doyle (Dooleys Cycles RT) 1-07-04
3. Dean Robson (Somerset RC) 1-07-07
4. Jimmy Wright (Preston Wheelers) 1-07-46
5. Dominic Sweeney (Lutterworth Cycle Centre) 1-08-30
6. Scott Walker (I-Ride RT) 1-08-47
Juniors
Jack Green (Westmead Team 88) 47-08.
Women
1. Sarah Storey (VC St Raphael) 47-47
2. Michelle King (Wyre Forest CRC) 50-17
3. Trudi Sammons (Reading CC) 51-35
Veterans on actual
1. Dave Dent (Wightlink-Offshore RT) 45-29
2. Richard Prebble (Candi TV-Marshalls Pasta) 45-32
3. Ian Cooke (Calder Clarion) 46-19
Veterans on target time
1. Richard Glover (Cambridge CC) +8-19
2. Victor Barnett (Welland Valley CC) +6-57
3. Dave Dent (Wightlink-Offshore RT) +6-46
Disabled
Simon Richardson MBE (Team Terminator) 47-12.
Thank you for reading 20 articles this month* Join now for unlimited access
Enjoy your first month for just £1 / $1 / €1
*Read 5 free articles per month without a subscription
Join now for unlimited access
Try first month for just £1 / $1 / €1