British juniors take on world in Italy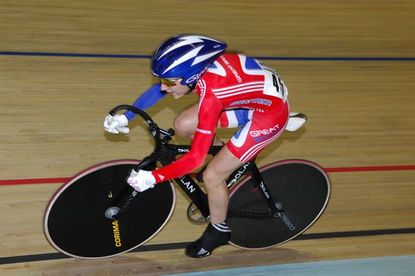 The British junior track team lines up to take on the world today at the track World Championships in Montichiari, Italy.
"Three of our four guys are now second year juniors who raced Moscow and who have stepped up a level: Lewis Oliva, Callum Skinner and Kian Emadi," said director of the sprint events, Jon Norfolk. "We are hoping for more from those riders."
Oliva, Emadi and John Paul will form the team sprint team and each will race the individual sprint. Norfolk believes that their biggest competition in the team sprint will come from the Germans.
"I think the Germans have a strong team this year, one guy is a second year rider and their first year guys are good," he said.
"We are focused on the process rather than the outcome because we have no idea what the other teams will do. The whole idea here is to develop Olympic champions and not junior champions. It is important that they get good experience, if they win then it is a bonus."
Emadi and Skinner will ride the one-kilometre time trial. Victoria Williamson will race all the events: sprint, keirin and 500m time trial.
Coach Darren Tudor leads the British endurance team with five men and two women. Today, Sam Harrison and Owain Doull will race the individual pursuit, Josh Papworth the scratch race and Laura Trott the points race. Trott finished fourth in the road time trial on Friday in Offida.
"This is the first time at the Worlds for all of the endurance riders," said Tudor.
"At the junior level, the important thing is the process behind the performance rather than the results. It is about understanding what it is like to be at a major championships: the feeling of going to the start line, the warm ups, the taper in the lead up to the champs..."
Last year, Becky James led Great Britain to fourth overall in Moscow. She won gold in the keirin and sprint, and silver in the 500m time trial.
The competition continues until Sunday.


Junior Men's Sprint
Kian Emadi
Lewis Oliva
John Paul
Callum Skinner


Junior Men's Endurance
Owain Doull
Sam Harrison
Daniel McLay
Joshua Papworth
Simon Yates


Junior Women's Sprint
Victoria Williamson


Junior Women's Endurance
Harriet Owen
Laura Trott
Thank you for reading 20 articles this month* Join now for unlimited access
Enjoy your first month for just £1 / $1 / €1
*Read 5 free articles per month without a subscription
Join now for unlimited access
Try first month for just £1 / $1 / €1