British teams racing in France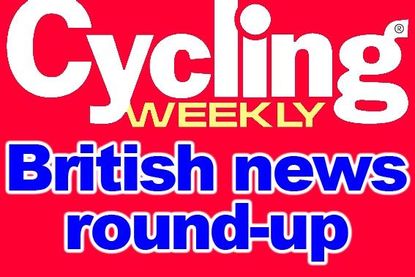 BRITISH SQUADS IN FRANCE

British squads Endura and Sigma Sport will line up in France tomorrow for the 1.1-ranked Tour du Finistère.
Endura sends a full-strength squad which includes Frenchman Alexandre Blain, Kiwi Jack Bauer, Ian Wilkinson and Rob Hayles.
Sigma are headed by Matt Stephens, who will be joined by, amongst others, Reservoir winner Simon Richardson and time trial sensation Wouter Sybrandy.




STRONG WELSH SELECTION FOR IRISH RAS
Dale Appleby of Raleigh will lead a strong Welsh team in the Irish Ras ten years after Julian Winn took the only Welsh victory in the race.
Four will be chosen to join Appleby from Rhys Lloyd, Matt Rowe, Jon Mould, Paul Esposti and Huw Wilson in the race that starts in Dunboyne on May 23.
23-year-old Appleby was 12th overall and the best young rider in the 2008 edition of the race.
"As it is Commonwealth Games year, we are starting the build up to the Games at the FBD Ras, which will be a very important first step towards Delhi," team manager, Gareth Sheppard, explained.
"The aim will be to compete for the overall, while hopefully picking up a couple of stage wins along the way.
"Final selection for the road team in Delhi will be made after the British Road Championships in June, so you can be sure that all the Welsh riders will want to lay down a marker for their selection."
BUMPER FIELD FOR LINCOLN GP
Russell Downing headlines this year's Lincoln GP as entries closed this week with a bumper field of some 200 riders.
Downing, already a three time winner of the race, will be returning with three Sky team-mates bidding for an unprecedented fourth title. Downing will be joined by Ben Swift, Geraint Thomas and Peter Kennaugh to form what will be one of the strongest teams in the race.
Sky will come up against the likes of 2009 runner-up and current Premier Calendar leader, Ian Wilkinson, along with winner of the race in 2000, Chris Newton of Rapha Condor.
Other previous winners in the line up are Malcolm Elliott who won back in 1983, Kristian House (2006), Dean Downing (2007) and John Tanner (1997 and 2001).
Eurosport is covering the race once again this year and there will be the added bonus of helicopter shots of the race.
The 55th Lincoln Grand Prix is scheduled this year for May 9 with the race covering some 11 laps of the eight-mile circuit, with the race concluding once again under the shadow of the cathedral and the castle after the final ascent of the infamous cobbled climb of Michaelgate.
ANDREW CAVENDISH JAILED ON DRUGS CHARGES

Andrew Cavendish, brother of Mark Cavendish, was imprisoned for a period of six years after admitting importing cocaine and cannabis with intent to supply according to BBC News.
Two others were also jailed for their involvement.
Andrew Cavendish has been credited as the inspiration for brother Mark to take up cycling in the mid-1990s and it was thought that Andrew would make the better cyclist of the two.
NIGEL MANSELL TO RIDE 2010 LONDON-PARIS
Former Formula 1 world champion and Indy Car championship-winner Nigel Mansell has confirmed his intention to ride this year's London-Paris.
Mansell will ride with Team UK Youth to help raise money for Britain's young people.
The motor racing legend will be joined on the roads to Paris by his sons Leo and Greg, with whom Mansell is contesting the Le Mans Series this year.
"It's our centenary this year so we wanted to do something challenging and inspiring and that's where cycling came in," said Mansell about the charity of which he is the president.
"In July, we're cycling 1200 miles across Britain and the L2P is the ideal preparation for our team.
"I've heard about The L2P's legendary atmosphere and we thought we'd get some real inspiration from some of the great cyclists taking part.
"I'm really looking forward to getting on The L2P starting grid and I know that arriving in Paris with the peloton will be an amazing experience."
Other names riding in this year's event include Stephen Roche, Rebecca Romero and Geoff Thomas.
See this week's Cycling Weekly for a ride feature with Nigel Mansell.


Mansell (second from right) poses with the UK Youth team
Thank you for reading 20 articles this month* Join now for unlimited access
Enjoy your first month for just £1 / $1 / €1
*Read 5 free articles per month without a subscription
Join now for unlimited access
Try first month for just £1 / $1 / €1