BRITISH UNDER-23 TEAM RIDING HIGH IN GERMANY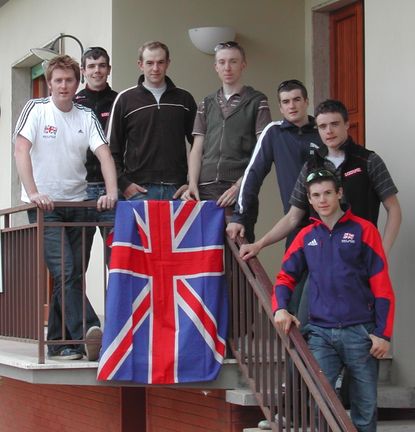 After today?s second stage individual time trial, Britain?s Ian Stannard is sitting in third place in the under-23 Thüringen Rundfarht race in Germany.
Stannard, part of British Cycling?s Olympic Academy has three more stages in which to challenge for the overall lead.
The British team got off to a good start in the 4km prologue team time trial, placing sixth. They were the only beaten by teams who had started before them in dry conditions, losing just 12 seconds to the Milram development team.
Stannard then placed third on stage one, after getting in the 17 man winning move.
Today?s stage saw the riders complete a 28km individual time trial. Ben Swift was the fastest of the British team, placing sixth, just 20 seconds behind stage winner Matt King from Australia.
Russell Hampton was seventh, two seconds back, while Ian Stannard was ninth a further second back.
THÜRINGEN-RUNDFARHT; STAGE TWO, TREFFURT (ITT)
1 Matt King (Aus) Australian National Team 14km in 17.49
2 Jörg Lehman (Ger) LKT Team Brandenburg at 1sec
3 Jerome Cappol (Fra) French National Team at 5sec
4 Tony Gallopin (Fra) French National Team at 17sec
5 Thom Van Dulmen (Ned) Rabobank at 19sec
6 Ben Swift (GBr) British National team at 20sec
7 Russell Hampton (GBr) British National team at 22sec
8 Matthias Belka (Ger) LKT Team Brandenburg at 22sec
9 Ian Stannard (GBr) British National team at 23sec
10 Mathias Frank (Swi) Swiss National team at 23sec
British
13 Robert Partridge (GBr) British National team at 25sec
47 Jonathan Bellis (GBr) British National team at 53sec
66 Andrew Tennant (GBr) British National team at 1.14min
GENERAL CLASSIFICATION
1 Jörg Lehman (Ger) LKT Team Brandenburg 4-05-22
2 Sebastian Hans (Ger) Akud Rose at 3sec
3 Ian Stannard (GBr) British National team at 5sec
4 Christian Kux (Ger) Milram at 5sec
5 Christoph Pfingsten (Ger) KED-Bianchi at 20sec
6 Matthias Belka (Ger) LKT Team Brandenburg at 21sec
7 Tony Gallopin (Fra) French National Team at 23sec
8 Paul Voß (Ger) 3C-Gruppe Lamonta at 31sec
9 Andrey Zeits (Kaz) Kazakhstan National team at 31sec
10 Tony Martin (Ger) Thüringer Energie Team at 33sec
British
18 Ben Swift (GBr) British National team at 50sec
19 Russell Hampton (GBr) British National team at 52sec
22 Robert Partridge (GBr) British National team at 1.03min
34 Jonathan Bellis (GBr) British National team at 1.23min
54 Andrew Tennant (GBr) British National team at 1.44min
Thank you for reading 20 articles this month* Join now for unlimited access
Enjoy your first month for just £1 / $1 / €1
*Read 5 free articles per month without a subscription
Join now for unlimited access
Try first month for just £1 / $1 / €1