BROWN TEASES BRITISH TEAM PURSUITERS BEFORE SYDNEY SHOWDOWN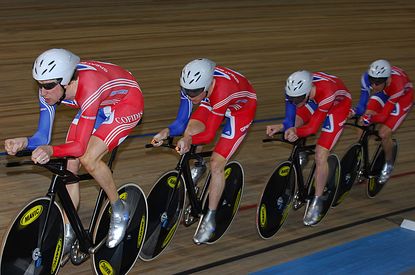 Australia?s rough and tumble sprinter Graeme Brown has tried to psych out the British team pursuit squad before the expected head to head race in the Sydney World Cup.
Speaking to Rupert Guinness of the Sydney Morning Herald newspaper, Brown is convinced that Australia will give Great Britain a lesson in team pursuiting at the Beijing Olympic Games. Brown won gold in the team pursuit and Madison in the Athens Olympics in 2004.
"I would be very happy if the Poms came here [to Sydney] and beat us by a long way because it would make them get a little confident, then we knock 'em down. It's like the [cricket] Ashes in '05, then we came back and kick their arse in '06. Give them a year [as winners]," Brown said.
Brown openly admitted he loved the rivalry between the Aussies and the Poms on the track.
"Shit yeah ? it's what Australians are put on this Earth for ? to kick the Poms' arses. Ain't that what it is about?" he said.
Brown will team up with Luke Roberts, Matt Hayman and Mark Renshaw in the team pursuit. He is (just about) modest enough not to expect a great result due to a short preparation but claims Australia's young riders will give the Ausises strength in depth ready for Beijing.
"We had six good guys in 2004 and I would say now we could have 13 going for four positions. I said it to a few of the Great Britain guys but they think I'm taking the piss out of them. The real competition will be in the Olympics."
The British team pursuit riders were unavailable to a comment on Brown?s words but we can only hope they will let their legs do the talking. If Great Britain manage to catch the Aussie quartet, perhaps someone can have a word in his ear as they flash past to a world Cup win.
MCEWEN STRUGGLING WITH INJURY
In other Australian news, veteran sprinter Robbie McEwen has revealed he is struggling with a minor injury after starting his training for 2008 a week ago. McEwen told the Sydney Morning Herald that he is confident of being fit to ride in the approaching Grand Prix winter series.
"At the moment, I've got a bit of a niggling injury in my leg which I hope will be cleared up. It's a combination of the hamstring and one of the muscles up above my knee,? McEwen said.
" I've been having treatment for some old scar-tissue injuries and trying to get that all 100 per cent. It's a bit of a niggle but it should be OK."
McEwen is expected to line up alongside Matt Wilson, Baden Cooke, Matt White and Henk Vogels at in Brisbane for the first Grand Prix race. The Brisbane leg is also the Australian Open Criterium Championship and the second stage of the series will be held at Surfers Paradise on December 9. McEwen is defending national men's champion but was reluctant to make any predictions despite winning a criterium last week.
"I've been riding for a week so I'm not going to predict any big things. I don't have too much expectation for the next couple of weeks because I'm only just back on the bike and I've got this niggling injury at the moment. I won't be pushing myself to the absolute limit."
McEwen will be back with the Predictor team in 2008 as they change their name to Silence after a product to stop snoring. However he revealed that he hopes to ride for a planned Australian professional team in 2009 backed by Queensland businessman Tony Smith.
CW'S TRACK WORLD CUP COVERAGE
Pendleton bounces back to win Keirin gold
Sydney World Cup night 2: Hoy and Edgar complete 1-2
British quartet make Brown eat his words
Brown teases British team pursuiters before Sydney showdown
Pendleton pulls out of 500m
Sydney World Cup night 1: no medals yet
The Big Preview: Tonight at the Dunc Gray track
CW's Dummies' Guide to track cycling
Thank you for reading 20 articles this month* Join now for unlimited access
Enjoy your first month for just £1 / $1 / €1
*Read 5 free articles per month without a subscription
Join now for unlimited access
Try first month for just £1 / $1 / €1