Cancellara's Tour road bike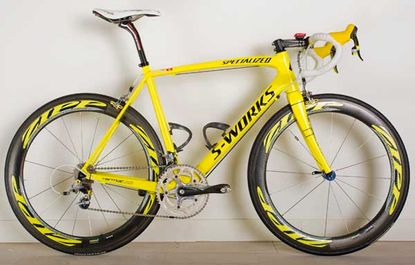 We saw this bike during the Tour de France and this week we were lucky enough to get our hands on the bike for some close-up details before it was shown on Specialized's stand at the London Cycle Show.
It's not unusual to see the yellow jersey wearer with a matching bike and Specialized was pretty confident its top time triallist would pull out a result. Arguably, it was not a forgone conclusion, but the confidence in Fabian Cancellara paid off.
Specialized's flagship frame, the SL3, uses the company's top FACT 11r carbon and was designed in close collaboration with the Saxo Bank squad. Steering precision has been increased with internal ribs at the head and down tube junction to resist torsional loads. A revised rear end uses an integrated one-piece chainstay and bottom bracket shell that helps to resist deflection from pedal loads, while elliptical seatstays further improve the rear end's stiffness.
Saxo Bank equipment sponsor SRAM went all-out for Cancellara and issued the rider with a custom Red groupset, with the exception of the Specialized BB30 crankset that the team ride. There's custom yellow detailing on the inside of the lever blades, rear mech cage and brake pad holders; more obviously, the brake hoods also announce the time trial ace's intentions. As with all of Cancellara's bikes there are plenty of subtle modifications for the rider, including a yellow chain-catcher mounted to the front mech. Zipp ZedTech 404s are available with custom decals, so it's no surprise to see these in yellow too.
Cancellara's Shiv TT bike
Making only a handful of 140mm stems, Specialized gives them mostly to its pro riders and Cancellara is one that prefers this length. Prologo was one of only a couple of companies that didn't jump on the yellow bandwagon, but did give the rider plenty of custom 'Spartacus' Olympic-badged saddles for both his road and TT bikes.
Cancellara gets a custom saddle from Prologo. The design highlights his Olympic and world titles.
The detailing can even be found here with coloured brake feet. The Zipp 404s also get yellow stickers to keep the theme going throughout.
The rear part of the jockey wheel cage also got a lick of yellow paint, although part of it has been scratched off. Surely the Saxo Bank mechanics didn't set the rear mech up to go in to the spokes.
Specilized provided a custom yello chain catcher. It may add a gram or two in weight but if it stops the chain getting jammed between the chainrings and frame it's worth it.
Thank you for reading 20 articles this month* Join now for unlimited access
Enjoy your first month for just £1 / $1 / €1
*Read 5 free articles per month without a subscription
Join now for unlimited access
Try first month for just £1 / $1 / €1