Carlos Sastre leaves Cervélo for Geox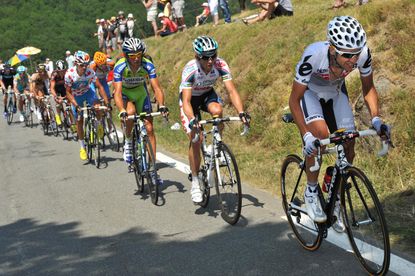 Spain's Carlos Sastre, winner of the 2008 Tour de France, announced today that he wil ride for Mauro Gianetti's Geox team next year.
"The trust that they've placed in me since the very first conversations," said Sastre, "has been the most important factor that has pushed me towards this new project."
Since his Tour de France win, Sastre helped Cervélo TestTeam get its start in cycling. In 2009, Roger Hammond gave Cervélo its first win of the year, but three months later, Sastre won two mountaintop stages at the Giro d'Italia.
In the two years, though, he has failed to come close to his success at the 2008 Tour de France. However, Gianetti welcomes Sastre's status in the UCI rankings to have his team's ProTour licence renewed.
As the UCI ProTour Council (UPTC) wrote in a press release on June 16, it will calculate the team's "sporting values" based on the riders it has contracted for the following year. The "values are calculated from the riders' results over the two previous seasons."
The UPTC will award ProTour licences November 20 and is ready to make an announcement about the licences today or tomorrow. Gianetti will wait anxiously, but confidently with one star rider confirmed for next season.
"We met and in two days time we had signed the contract," said team manager, Gianetti today of his new rider.
"We selected him not only for his palmarès, but for his outlook on how he will approach the next season."
Gianetti was able to announce Sastre's contract today instead of September 1 due to a new UCI rule. It recently changed the date to August 1, allowing riders and teams to announce their plans for the following season one month earlier.
Italian footwear company Geox agreed on Wednesday to take over sponsorship of Gianetti's Footon-Servetto team for next year. The Italian press originally reported that Polegato agreed to the five-year, €50 million contract, but Gianetti was unclear on the terms. The team's licence is registered in Spain, but may switch to Switzerland.
Brit Tom Faiers turned professional with Gianetti's team this year, but is currently sitting out due to a rare heart syndrome. Gianetti will look over his medical exams before renewing his contract.
He said, "His health comes first."
Footon has links back to Gianetti's Saunier Duval team. The team lost its sponsor and re-structured itself at the end of the 2008 season, following the doping positives of Leonardo Piepoli and Riccardo Riccò at that year's Tour de France.
Thank you for reading 20 articles this month* Join now for unlimited access
Enjoy your first month for just £1 / $1 / €1
*Read 5 free articles per month without a subscription
Join now for unlimited access
Try first month for just £1 / $1 / €1