CAV, HAYLES AND NEWTON JOIN REVOLUTION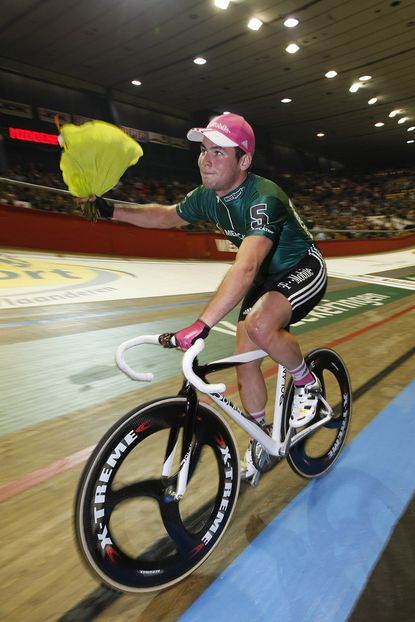 (Image credit: LUC CLAESSEN)
Mark Cavendish, Rob Hayles and Chris Newton all return to Revolution on January 12 to add some experience to the endurance racing which has so far this season been dominated by the excellent British Cycling Academy.
Cavendish (pictured), now riding as High Road Sports, had a turbulent start to his track season with a disappointing performance at the Gent Six Day and under his own admission ?struggled to find his track legs? after a long road season. However, the Manx star returned to form with a podium place in the Madison at the Beijing World Cup.
Cavendish will now join Rob Hayles and Chris Newton as they return to Manchester to continue their build up to the World Championships at the end of March.
The trio will certainly have their work cut out as they take on the British Cycling Academy who have been on blistering form so far this season. This was highlighted by a dominant performance by Ben Swift at the last Revolution event and the 100%me team of Andy Tennant, Jonny Bellis and Steven Burke who lapped an experienced Spanish squad in the Team Pursuit.
These riders return on January 12 in an action packed programme featuring a Motor Paced Scratch, 10km Points Race and 1km Madison Time Trial.
To compliment the programme Revolution 19 will also see a return of the elite women?s racing. After years of struggling to find enough riders to field women?s racing at Revolution the dramatic increase in British female talent has provided an abundance of competitors which was demonstrated by the success of the women?s racing at Revolution 17.
One notable rider making their debut at Revolution will be pursuit specialist Rebecca Romero. An Olympic silver medallist and World Champion in the sport of rowing, Romero moved to cycling in 2006 and went on to take silver in the Individual Pursuit at the 2007 World Championships. With her sights firmly set on the Beijing Olympics Romero will now use Revolution as crucial preparation as she targets the Points Race as well as Individual Pursuit.
Tickets for Revolution on January 12 are on sale at www.cyclingrevolution.com or by calling 0845 686 0105 or 0161 223 2244.
RELATED LINKS
World Champions collide at Revolution
Hoy on form in Holland
Hoy returns to Revolution
Thank you for reading 20 articles this month* Join now for unlimited access
Enjoy your first month for just £1 / $1 / €1
*Read 5 free articles per month without a subscription
Join now for unlimited access
Try first month for just £1 / $1 / €1