Cavendish apologises for two-finger salute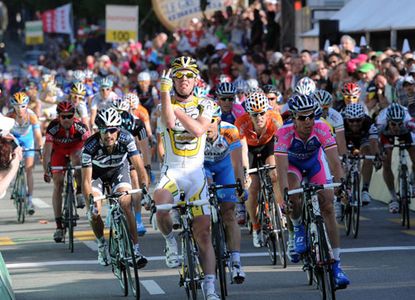 Mark Cavendish has issued an apology for his two-finger finish line salute at the end of Thursday's Tour de Romandie stage.
Cavendish won the bunch sprint at the end of stage two, and held two fingers aloft as he crossed the line, later saying that it was a message to "journalists and commentators who know jack-**** about cycling".
The Manxman has now expressed remorse for his actions in a statement released by his HTC-Columbia team on Friday.
"I want to publicly apologise for the gesture I made on the finish line of the Tour de Romandie yesterday," said the statement.
"I did want to make a statement to my critics but I realise that making a rude gesture on the finish line is not the best way to do that.
"I apologise to everybody watching the race and especially the kids. I am not proud of releasing the feelings in that way.
"I hope I can redeem myself and show my feelings and passion for cycling with some exciting results in the next couple of months rather than with gestures such as the one yesterday."
Having won 23 professional races in 2009, Cavendish has felt increasingly under pressure to get results this season after a severe tooth infection hampered his progress. Prior to Thursday's stage victory in the Swiss race, he had won a single stage of the Tour of Catalonia.
The often headstrong Cavendish has already been embroiled in a war of words with team-mate and fellow sprinter Andre Greipel, telling the Guardian newspaper that "there's no chance of Greipel winning a Monument. There's no chance whatsoever that he's coming to a bike race that I'm in."
The sprinters' spat was later cooled by team boss Bob Stapleton, saying that there is room in the team for both fastmen.
Although Cavendish may have racked up more wins at this point in previous years, it's early days - his main aims for the season are the green jersey at the Tour de France in July and the World Championships in Australia at the end of September.
Related links
Cavendish back to winning ways in Romandie
Stapleton cools Cavendish-Greipel fire
Thank you for reading 20 articles this month* Join now for unlimited access
Enjoy your first month for just £1 / $1 / €1
*Read 5 free articles per month without a subscription
Join now for unlimited access
Try first month for just £1 / $1 / €1