Cavendish going for green jersey at 2010 Tour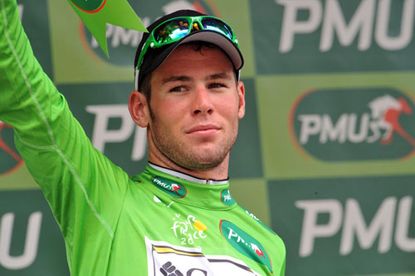 This story first appeared in Cycling Weekly magazine on November 19, 2009
Winning the green jersey at the Tour de France will be Mark Cavendish's most important goal, according to Team Columbia-HTC directeur sportif Rolf Aldag.
Cavendish, Aldag and the rest of the Columbia management team won't finalise the riders' race programmes until their first training camp in Lanzarote at the start of next month, but already it is clear the green jersey is the biggest priority.
"The target is the green jersey, absolutely," said the German. "If he wins two or three fewer stages than this year, that's fine. Mark won six stages in the Tour de France this year, aiming for that again is not so interesting because he's already done it. But he's never won the green jersey, which makes it a more important objective. There's still ground to discover."
Cavendish was locked in a head-to-head battle with Thor Hushovd until he was relegated to last place when the jury decided he deviated from his line in the sprint at Besançon. "I still think they took the green jersey away for no reason. I didn't think it was fair at all. I have probably watched it two million times on You Tube and it wasn't right/ But it's over, we forget it.
"Thor rode a very clever race, so Mark knows what he has to do. At some point you have to go for the intermediate sprints but I don't think he will go for them from day one."
Each year the Columbia riders get their race programme printed on a sheet of paper with their most important objectives marked in red. In 2010 Cavendish's first objectives will be Milan-San Remo and Ghent-Wevelgem, which come on consecutive weekends in March after the calendar reshuffle. It's a move that will help Cavendish. "He's already won Milan-San Remo so he has no pressure. I know he'd like to win Ghent-Wevelegem."
Cavendish may have a gentler start to the season in order to be fresher for the Tour, and the decision over whether to ride the Giro d'Italia or the Tour of California will be made purely on the basis of which is the best preparation for July.
Cavendish wins stage 11 of the 2009 Tour de France
Then comes the World Championships in Melbourne in September. Aldag added: "That is a long way away, so maybe he'll have an easier start to keep him fresh later in the season. Normally if the Worlds are in Europe you have to ride the Vuelta a Espana, but perhaps this year it will be different. Maybe it would be better to go out there earlier and get used to everything with a training camp. But that is up to British Cycling federation to decide.
"I know Rod [Ellingworth, BC coach] has been to Melbourne to see the Worlds course. I would try to keep the focus away for the moment, have a little easier start to the season. It all depends on the level of stress at the Tour. If he is fresh going into the Tour and on a good level after the Tour, there's a very good chance he will do well at the World's.
"We need to keep him a little fresher during the second part of the season. We know he has such a huge talent he can win stages of the Tour of Missouri at 75 per cent but you can't win the Worlds at 75 per cent.
"Then it is for British Cycling to put the team-mates behind him and to keep everything together to make sure it will be a sprint. There are a lot of things there that we have no influence on.
Related links
Mark Cavendish: Rider Profile
Thank you for reading 20 articles this month* Join now for unlimited access
Enjoy your first month for just £1 / $1 / €1
*Read 5 free articles per month without a subscription
Join now for unlimited access
Try first month for just £1 / $1 / €1