CAVENDISH: HOW I WON ROMANDIE PROLOGUE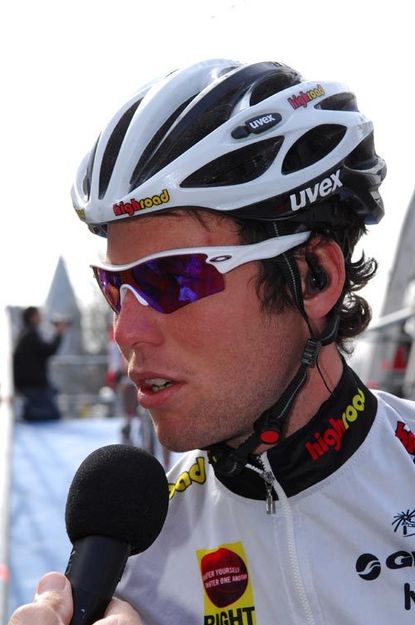 Briton Mark Cavendish has said the key to his Romandie prologue win was at once simple and very tough - going flat out for as long as possible.
?I went all out all of the way through,? Cavendish told Cycling Weekly on Tuesday evening.
?Me and [team-mate] Bradley [Wiggins] had talked about it beforehand and we agreed there was no point in doing anything else.?
Cavendish tried to check out the course beforehand but could not make a full reconnaissance because some barriers were not up.
?To be honest that made it better, because I didn?t brake until a bit later for the [main] corner on the course than I would have if I'd seen it. That gained me some time.?
Just two kilometres long, Cavendish said ?The distance was a good one for me. If it were any longer my concentration would start to go. I?d start singing Spice Girls songs or something.?
Cavendish has been racing brilliantly all spring, with wins at the track Worlds and on the road in the Scheldeprijs and in two stages of De Panne. And intensive training over the last week, he says, has helped him raise his game even higher.
Wednesday?s opening road stage of Romandie has three classified climbs, the last a first category just over 20 kilometres from the finish. Cavendish knows he?s bound to be challenged for the lead, but that won?t stop him resisting as hard as possible.
?I?ll try and defend the jersey, but to be honest I just have to see how it goes.
"There are a couple of stages that might end in sprints, and of course those are objectives.
"But I could have gone to the Tour of Georgia instead of racing here. What?s happened is I?m more here to pick up on my form for the mountains in the Giro.
"If I get spat out [in the mountain stages], I get spat out. That?s not the point. I?m just here to see what I can do and give it everything.?
Thank you for reading 20 articles this month* Join now for unlimited access
Enjoy your first month for just £1 / $1 / €1
*Read 5 free articles per month without a subscription
Join now for unlimited access
Try first month for just £1 / $1 / €1