CAVENDISH ON HIS SCHELDEPRIJS SPRINT WIN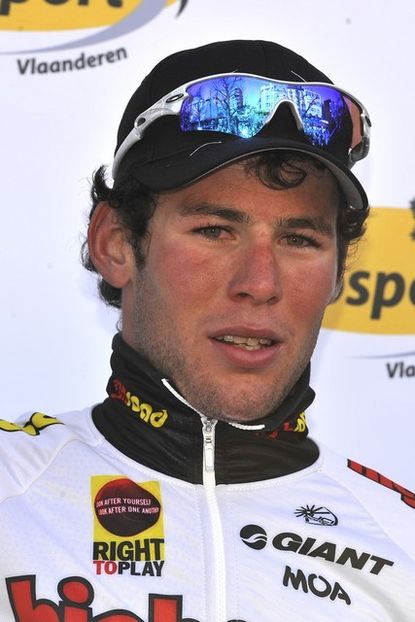 (Image credit: LUC CLAESSEN)
Mark Cavendish (High) Road) celebrated beating Tom Boonen (Quick Step) and Robbie McEwen (Silence-Lotto) at today's Scheldeprijs race by spraying them with champagne on the winner?s podium.
Cavendish came from behind to win his third sprint of the year, proving that when he has a clear run to the line, he is currently the fastest sprinter in the world in the final 100 metres.
?I showed at De Panne that I?ve got the form. I was unlucky at Ghent-Wevelgem and so it?s nice prove a point again. This is a special race for me because when I won it last year it was my first win as professional,? Cavendish told Belgian television after his win.
Cavendish admitted he might not have won if Boonen had not put up his arms at the line but pointed out that he was definitely the fastest because he came from behind to win.
?With 50 metres to go I thought I was finished but as I?ve shown in every other sprint I?ve done this year, I?m two or three kilometres an hour faster than anyone else and came at the line. Tom put his arms up, I lunged at the line and I knew I?d got it,? he said.
?I don?t know if I?d won if Tom hadn?t put his arms up. I?d have to see a replay but as you can see I?m still fastest and the team did a perfect job to get me up there.?
The final kilometre of the sprint was hectic and Cavendish admitted he was lucky to get back to the front and find a clean line to the finish.
?It was really dangerous, there were guys sprinting for the 300 metre point and then fading. It was like trying to get through traffic islands, it was hard to get past. I thought there were too many people in the way at 200 metres but I was lucky in the gaps. In Ghent-Wevelgem there were no gaps and I finished 17th.?
Scheldeprijs was Cavendish?s 14th victory of his career and comes just over two weeks after winning the world Madison title at the track world championships in Manchester. He will now spend some time studying the key mountain stages of the Giro d?Italia to help make sure he finishes. He is expected to ride the Tour of Romandie as his final preparation for the Giro that starts on May 10.
Tom Boonen (Quick Step), arms up, thinks he?s got the win but Cavendish, to his left, is making a late surge. By Luc Claessen
Boonen realises his mistake and Cav?s face shows he knows he?s got it. By Luc Claessen
What on earth happened there? Quick Step can?t believe they?ve been beaten. By Luc Claessen
YouTube clip of Mark Cavendish's slippery podium celebrations
RELATED LINKS
2008 Scheldeprijs in pictures
Cav wins Scheldeprijs: Watch the final kilometre here
Thank you for reading 20 articles this month* Join now for unlimited access
Enjoy your first month for just £1 / $1 / €1
*Read 5 free articles per month without a subscription
Join now for unlimited access
Try first month for just £1 / $1 / €1