Cavendish pays tribute to team-mates after taking Vuelta lead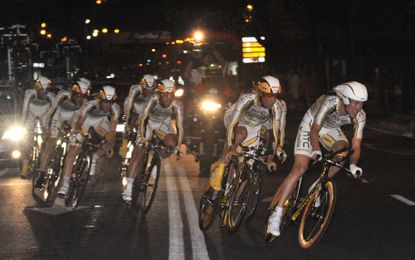 "It was down to belief and discipline," was Mark Cavendish explanation for how his HTC-Columbia rode to success in the Vuelta's opening team time trial and his first ever leader's jersey in the Tour of Spain.
"This is a star team and after we did the first ten minutes of training practice on Thursday I was sure we could win it. It felt like the best team I could wish for in a team time trial."
"Afterwards we sat down, looked through it all, and discussed it. Team time trial success is all about communication, giving it 100 percent but working as a unit."
"It's my favourite discipline because you need to get everything absolutely right for it to work out, you can mess up bits of a sprint and still win but in team time trialling there's no hiding places."
Cavendish himself did some hard behind-the-scenes work off the bike, going over Google maps of central Seville "for a couple of hours, just checking out the whole route and working out what it would be like."
"And I'm incredibly proud of my team and what they did, the whole squad should be able to wear this leader's jersey."
Already the leader in the Tour of Italy back in 2009 after his team won the team time trial there, Cavendish could have a chance to maintain the lead today [Sunday] and perhaps win the stage into Marbella at the same time.
"It's a tough stage, and with the leader's jersey we'll try and keep it all together in any case. Hopefully there will be a bunch sprint."
"Overall, we think there are six possible stages which could end in bunch sprints in this Tour of Spain."
Although World Championships contenders often pull out of the Vuetla, Cavendish says he has every intention of completing the Tour of Spain - for which he has trained hard, deliberately avoiding doing any criteriums in August.
"I want to go all the way to Madrid, this is a beautiful race to ride, and I've been to Madrid a few times and I like it. I'd like to see it again."
Vuelta a Espana 2010: Related links
Vuelta stage one: Cavendish leads after HTC-Columbia win team time trial
Vuelta a Espana 2010: Cycling Weekly's coverage index
Thank you for reading 20 articles this month* Join now for unlimited access
Enjoy your first month for just £1 / $1 / €1
*Read 5 free articles per month without a subscription
Join now for unlimited access
Try first month for just £1 / $1 / €1