Designer produces periodic table of Grand Tours
If the table of the elements looked like this when we were at school, we might not have failed chemistry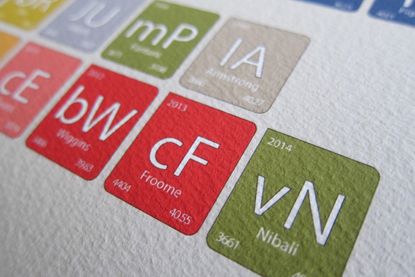 Tour de France fans are used to witnessing exciting reactions in the world's biggest annual sporting event. Now there's a new poster that captures the chemistry of the race in a Periodic Table naming every winner.
The colourful grid lists the initials of each year's winner in separate squares and they're laid out like the chart of chemical elements that's familiar to anyone who's ever been in a science classroom.
Graphic designer Johnny Joannou came up with the idea when he wanted to make something for his cycling-mad nephew. "My wife's a chemistry teacher and the Periodic Table has played a large part in my life," he says, "then I realised it could be a great way to pay homage to the biggest cycle race."
So he redrew the grid, added the winners' initials and coloured it using shades from a 1925 poster of a French bicycle manufacturer. Now he sells limited-edition prints of all the cycling Grand Tours.
"I actually have tables of the Giro, the Vuelta and 31 other sports events and subjects, but the Tour de France design is by far my best seller, with orders from around the world," says Johnny.
It seems that some people just can't get enough of the Grand Tours. "It's odd but customers who order the Giro design often buy the Vuelta and Tour prints as well," says Jonny. "I don't know why but clearly the Giro fans are passionate."
Apart from the Yellow Jersey's name appearing below their initials, each cell includes the distance they covered and their average speed, too. There's an option to order a copy of the limited edition prints with the Armstrong years deleted.
Buyers can also order a personalised version, with their own cell added as if they're the winner of the 2015 Tour.
Cycling is a Joannou family tradition. His website displays the Tour print standing against his father's 1950s Raleigh Popular. "He won the 1958 Tour of Cyprus on it. At least, that's what he told me," says Johnny. "I've looked it up. There never was such a Tour."
Johnny gets out on his bike at weekend and has, finally, been able to gave a personalised print to hs nephew.
More information: On A Sixpence
What the best cyclists in the world have to say about the route of the 2015 Tour de France
Take a look at every stage of the route of the 2015 Tour de France
Thank you for reading 10 articles this month* Join now for unlimited access
Enjoy your first month for just £1 / $1 / €1
*Read 5 free articles per month without a subscription
Join now for unlimited access
Try first month for just £1 / $1 / €1