Chris Froome will 'set things up' for Ben Swift in World Champs road race
Chris Froome says that he will play a team role for Great Britain during the elite men's road race at the 2014 Road World Championships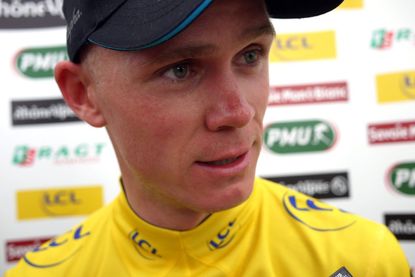 (Image credit: Gregor Brown)
Chris Froome is ready to give his all to help Great Britain's team win the World Championship road race on Sunday in Ponferrada, Spain.
"One-day races aren't my forte but I definitely want to play a role to set things up for [Ben] Swift," Froome said. "I'm here to do my job and set him up for the win."
Froome arrived this afternoon in Spain's northwest and joined his eight team-mates at Great Britain's hotel in Leon. One year ago, he had to abandon the Florence Worlds under heavy rain.
The 29-year-old has a poor one-day record, winning only the 1.2-ranked Giro del Capo in 2009. This year, he pulled the plug on Liège-Bastogne-Liège at the last moment and failed to compete in one one-day race as he focused on the Tour de France and Vuelta a España stage races.
"I still lack big results in one-day races, it is just not my forte," Froome continued. "I want to do well in a one-day race, maybe in the Rio Olympic Games, if it is hilly, I'll have a chance. If am going to do well, I need a very hilly or mountainous one-day race. If the Olympics or Worlds are that way I could do well, or even a race like Liège-Bastogne-Liège in the future."
The Ponferrada Worlds features two climbs in its 18.2-kilometre circuit, but many experts say it will suit a strong sprinter like Germany's John Degenkolb, not climbers.
The sun has been shining on Ponferrada for the last few days, but the forecast shows clouds and rain for Sunday. All of Great Britain's riders pulled out after rainstorms in Florence last year, with Froome calling it quits after 170 kilometres, so the forecast could be a bad sign.
"If it like last year, that's different than just a few showers. If it does rain, it will affect the race on a circuit like in Ponferrada, where you're going up or down," Froome said.
"I want to be there the entire race. If it is raining, it's going to change the dynamics and make the race more selective. Everyone will be in the same situation, but we are going to have to play it by ear and see how the race pans out."
Swift rode to third place for team Sky this March at the 294-kilometre Milan-San Remo classic. Great Britain has not revealed its plan for Sunday, but Froome indicated it would be based on Swift.
"Ideally, we'd want to see 'Swifty' get into the rainbow jersey, we have a team here that's pretty much based around him," Froome said.
"We have quite a mixed team here because the Worlds is an event that's different and unpredictable. The way we are reading it, it could come down to a more selective sprint. That's good for 'Swifty', and I'll support him for that win."
Thank you for reading 20 articles this month* Join now for unlimited access
Enjoy your first month for just £1 / $1 / €1
*Read 5 free articles per month without a subscription
Join now for unlimited access
Try first month for just £1 / $1 / €1