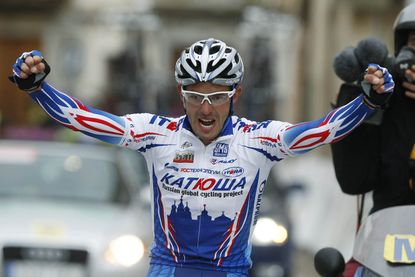 The Union Cycliste Internationale has announced today that Spanish rider Antonio Colom has failed an out of competition test for banned blood-boosting drug EPO.
The Katusha rider has been provisionally suspended from competition after traces of EPO were found in a urine sample taken out of competition on April 2. Colom was targeted as a result of anomalies in his blood values detected by the UCI's biological passport system.
The biological passport builds up a profile of a rider's blood, hormone and other values with the aim of detecting any unexpected fluctuations throughout the season.
Colom won stage eight of this year's Paris-Nice, and won the overall classification at the Tour of Majorca in February.
Colom will remain suspended until the case is heard by the Spanish Cycling Federation.
It's the second positive to have hit the Russian-backed Katusha squad. The outfit suspended Austrian Christian Pfannberger in May when he tested positive for an unspecified substance.
On Wednesday, the UCI and Tour de France organisers ASO are holding a joint press conference in Paris. There is speculation that a further announcement will be made regarding findings from the biological passport system.
Thank you for reading 20 articles this month* Join now for unlimited access
Enjoy your first month for just £1 / $1 / €1
*Read 5 free articles per month without a subscription
Join now for unlimited access
Try first month for just £1 / $1 / €1