Contador says Tuesday is the deadline for Astana's future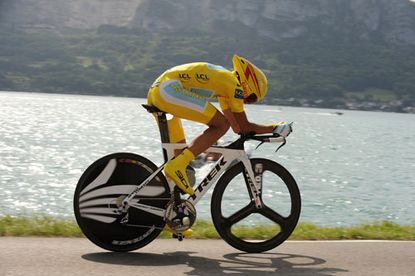 Double Tour de France winner Alberto Contador has confirmed that the next and possibly final instalment of the interminable saga over his future team for 2010 will be decided on Tuesday. According to the Spaniard, that's the day that the UCI will reach a decision on whether or not Astana has a viable future as a ProTour team.
"I'll know if I continue or not in Astana on Tuesday," Contador told Spanish sports daily MARCA shortly after taking part in a criterium in Cancun, Mexico.
"That's the day the UCI will give the green light to Astana - or not. Depending on what happens, I'll either fulfill my contract with Astana until the end of 2010, or I'll quit."
Contador says that no decision has been made over where he would go if Astana's ProTour licence was refused, but that "a decision would be made quickly, in a question of days."
This is the first time that Contador has stated directly that he will definitely stay with Astana if there is no change on the ProTour licence, rather than trying - as had been strongly rumoured in the past - to get out of his contract for 2010. To judge from his latest statements, if Astana are confirmed for the ProTour, then Contador's future will be automatically decided.
There had been speculation that Contador might have problems taking part in the 2010 Tour de France if he stuck with Astana. But according to Marca, Contador has been promised a start in the Tour de France by the organisers regardless of which team he races with.
Although for a long time it looked as if Astana was doomed to disintegrate, with a large proportion of the riders and staff leaving for Lance Armstrong's new squad, there have recently been signs that there could be yet be life in the Kazakh team.
Astana recently signed Frenchman Yvon Sanquer as team manager to replace Johan Bruyneel and they have started the process of signing up riders for 2010.
"At least we know now who's going to be in charge, that was necessary," Contador said, "and if we sign five or six more riders we should have a competitive team."
Whilst Haimar Zubeldia may be forced to remain with the team next year despite wanting to change for RadioShack, another Spanish pro, Fuji-Servetto's David De La Fuente, has already signed with Astana for next season. Italian Damiano Caruso is also rumoured to have been approached.
Whilst the war of words with Lance Armstrong is largely past history,
Contador confirmed that, as he had told sister magazine Cycle Sport
last month, he feels Andy Schleck will be the biggest threat to him in
2010, not the American.
"We all saw what Armstrong's level was this year," he insisted.
"I honestly believe that other riders are more dangerous than he is [for the Tour]. And the most dangerous will be Andy Schleck."
Thank you for reading 20 articles this month* Join now for unlimited access
Enjoy your first month for just £1 / $1 / €1
*Read 5 free articles per month without a subscription
Join now for unlimited access
Try first month for just £1 / $1 / €1