Contador to leave Astana - definitive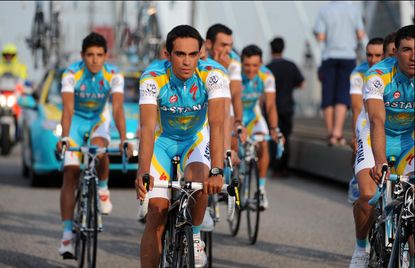 Tour de France 2010 winner Alberto Contador is to leave Astana at the end of this season. Negotiations between the 27-year-old Spaniard and the team have broken off and cycling's top stage racer will be with a new squad for 2011. However, it's not at all clear where he will be heading.
Following the departure of Lance Armstrong, Johan Bruyneel and a large proportion of the squad to RadioShack at the end of 2009, as well as an end to the payment problems that had plagued Astana that season, it all seemed as if Contador was on track to continue with a team with which he had won two Tours de France, a Giro and a Vuelta.
Contador was reportedly offered a five million euro annual salary by the Kazakhs to renew his contract which ran out at the end of this season, and during the Tour de France protracted negotiations continued between the Spaniard and the Astana squad.
A press release from Contador's media team entitled "Contador and Astana go their separate ways" was ambiguous about what was happening. Whilst it seemed to confirm that he was moving on, the statement's final phrase "he is studying all the possibilities open to him," suggested the opposite.
However, Cycling Weekly has ascertained from sources close to Contador that the split is definitive and he will be heading for another team for 2011.
The reasons behind the move are a mixture. Contador's tumultuous end of season problems with Astana last year are one possible factor. Another is a major disagreement over a deadline the Kazakhs set for Contador over deciding whether he stay or go which has now passed.
There are rumours that Contador did not feel the pay increase they offered was enough. And finally in the latter part of the Tour, Contador apparently did not receive any time references during the final time trial because his race radio did not work, and the team's inefficiency almost cost him the yellow jersey.
His next stop could be Bjarne Riis's new team although Contador is insisting on taking four Astana riders with him: Benjamin Noval, David de La Fuente, Jesus Hernandez and Dani Navarro. Rather than prolongue the decision over a team until the late autumn, as happened last year, Contador expects to have signed a new deal within the next month.
Related links
Alberto Contador: Rider Profile
Contador confirms he'll continue with Astana (November 2009)
Thank you for reading 20 articles this month* Join now for unlimited access
Enjoy your first month for just £1 / $1 / €1
*Read 5 free articles per month without a subscription
Join now for unlimited access
Try first month for just £1 / $1 / €1